Oaks Academy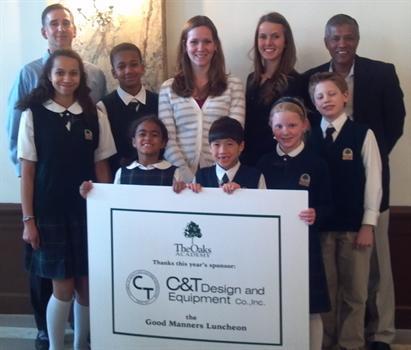 C&T Design and Equipment Co. has been an enthusiastic supporter of The Oaks Academy for several years.
The Oaks Academy is an independent school, Pre-Kindergarten though 8th grade, where every child is capable of the duty and delight of learning. This is a school where relationships come first, where all are known and loved, and barriers resulting from racial and socioeconomic differences can be destroyed. To find out more about how The Oaks delivers a true education, please visit www.theoaksacademy.org.
Each spring C&T Design partners with the Oaks Academy on the Good Manners Luncheon. This event for the students helps to teach, encourage and reinforce proper etiquette. We believe manners help children over the course of their entire lives. From college to career, good manners can help an individual turn their dreams into reality when they have first-hand references speaking to their character. Manners benefit society as a whole starting with the individual, and we are starting with the bright individuals at The Oaks Academy.
We firmly believe in The Oaks Academy's mission and look forward to many years in partnership.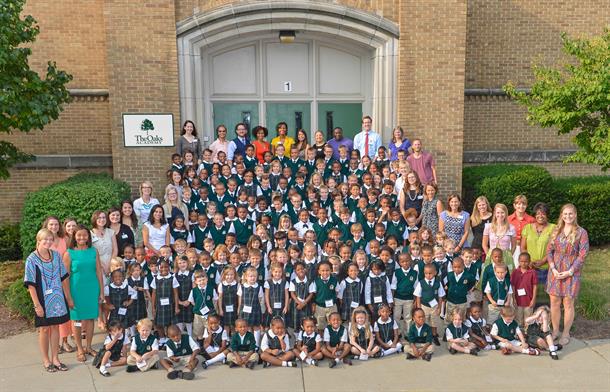 Oaks Academy has two locations: Fall Creek and Brookside (pictured above).
Below are some statistics regarding each campus.
Enrollment:
Fall Creek: 401 /
Brookside: 162
Ethnicity:
Fall Creek: 35% African American; 49% White American; 16% Other American
Brookside: 48% African American; 41% White American; 11% Other American
Economics/Income:
Fall Creek: 46% Low; 33% Middle; 20% High
Brookside: 50% Low; 27% Middle; 23% High
ISTEP:
94% Pass Rate for grades 3 through 8 (not teaching to the test - curriculum remained intact!)
Overall Statistics:
99% of Oaks' students graduate High School
95% of Oaks' students graduate College

---
Broad Ripple Sertoma Club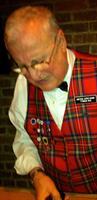 Broad Ripple Sertoma (SERvice TO MAnkind) Club is a group of gentlemen who volunteer their time to raise money for causes near and dear to their hearts. The club conducts "Las Vegas Style Casino Parties" for entertainment for businesses and associations in the Indianapolis area to raise money for these charities. For the last few years, C&T Design's Christmas parties have been graced with the presence of the kind-hearted men of the Broad Ripple Sertoma Club. Since chartered in 1958, the club has raised over $2,000,000.00 for several charities, including Noble of Indiana and the Craniofacial Dept. of IU Medical Center at Riley Hospital for Children.
To read more about what these great men do for local charities and/or to hire them for your own party please visit their website at www.wix.com/broadripplesertoma1/broadripple-sertoma#!.
---
Living Water International
More than 20 years ago, Living Water International and its missionaries set out to provide clean water to some of the poorest communities in the world. "884 million people around the world lack access to safe drinking. In response to this need, Living Water International implement participatory, community-based water solutions in developing countries. Since the started, they've completed more than 10,000 water projects for communities in 26 countries."
To read more about this amazing group and the wonderful things they do please visit their website at http://www.water.cc/.
---
Other Causes C&T Supports
Marquette Manor's Golf Outing for the Alzheimer's Association
Sahm's Golf Outing for the Megan S. Ott Foundation for breast cancer
PRS Resource, Inc.'s Indianapolis Mini Marathon run for Parry-Romberg Syndrome
Briad Charity Fund's Golf Outing for the Dave Thomas Foundation for Adoption
Franklin College's Golf Outing for the Hugh Andrews Memorial Fund
TherAplay! Children's TherAplay Foundation - United Way
Cathedral High School, Hear Indiana, the Cystic Fibrosis Foundation, Give Kids The World, Indiana Boys & Girls Club, Autism Speaks, YMCA, Special Olympics, and many others.