CT PROformance™ Combitherm® Oven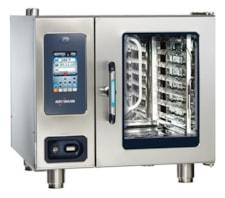 The Alto-Shaam CT PROformance™ Combitherm® Oven is your all-in-one solution for efficient and consistent volume food production. It combines multiple cooking functions into a single appliance, providing endless versatility, reliability and unmatched performance in your kitchen.
Consider it an alternative for the convection oven, kettle, steamer, fryer, smoker and dehydrator. Poach delicate salmon filets, or steam vegetables without sacrificing quality and flavor. Cook potatoes, rice and pasta with consistent and repeatable results. Combine steam and convection to roast meats, fish or poultry with perfect results. Prepare sauces and casseroles in a one-step process with less labor. Rethermalize and refresh quickly and safely in a controlled and precise cooking environment. Keep baked and oven-fried menu items tender and moist inside, while crisy and golden brown on the outside.
Information/Quote Request