Convenience Stores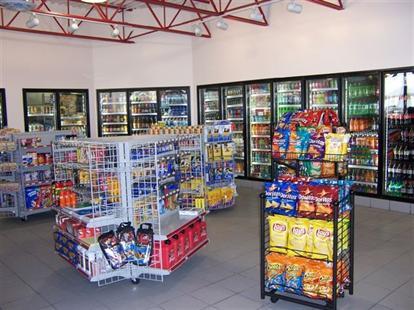 While gas has a low margin for convenience store owners, food and beverages sold offer an opportunity for much higher margins. The challenge is to properly place and promote high margin categories within a relatively small footprint. Space and budgets are typically an issue and we will provide efficient and thoughtful designs and equipment helping to drive sales in your self-serve and full service profit centers.
Service & Products Overview
| | |
| --- | --- |
| Site & Store Design | Custom & Metal Cabinets |
| Equipment Procurement | Cooking & Foodservice Equipment |
| Walk-In Coolers/Beer Caves | Display Shelving & Fixtures |
| Beverage Systems | ATM Sales & Processing |
| Ice Machines/Merchandisers | Tidel Cash Management Safes |
| Grab N Go Merchandisers | Complete Installation |
DESIGN - Thoughtful site and store layouts
With over 40 years of combined experience in the C-store industry, the C&T Design team will take your ideas and plans and make them a reality. Using CAD and 3D rendering, we will help properly design your site and store. Starting at the site we place your facilities to provide greatest visibility to customer. We focus on properly directing traffic onto your lot and then through your fuel dispensers, carwash, QSR and into your store. Our customer-friendly and efficient operating designs maximize traffic flow to the most profitable categories within your store. Our experience will shed light and help prevent costly mistakes that less experience architects and site engineers overlook when attempting to design fuel & convenience retail facilities. The bottom line is our experts will help return your investment dollars faster!
EQUIPMENT - Extensive offerings and great savings
As a premier equipment dealer, servicing the entire country with nearly 20 offices in more than 10 states, C&T Design and Equipment Co. brings all major foodservice equipment brands to the market at the best price. C&T holds preferred dealer status with all of our manufacturers. This helps us bring you the best equipment to your projects. Providing single piece equipment sales up to full-store procurement, installation, and project management services, we will deliver equipment at great prices, installed and on time!