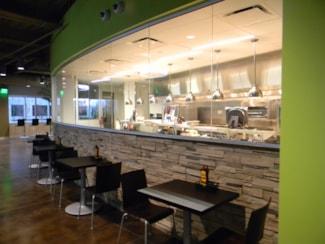 On Monday of this week, Eskenazi Health was named the 2018 Foodservice Operation of the Year by FoodService Director (FSD) magazine.
"The healthcare system was selected from a group of 12 operations, each of which was honored as an FSD Foodservice Operation of the Month throughout 2018... The 11 other contenders for Foodservice Operation of the Year were: Florida State University, Pro Athlete Inc., Los Angeles Unified School District, Boston Medical Center, University of California Santa Barbara, District of Columbia Public Schools, Oracle, Arkansas Heart Hospital, Rochester Institute of Technology, Calcasieu Parish Public Schools and Wake Robin Life Plan Community."
Congratulations to Eskenazi Health! This distinction is well-deserved.
C&T Design Indy's Cindy Reed worked with Eskenazi Health during the planning and building phases and has continued to after they opened in 2013. We are honored to work with an organization that is so committed to the community and people's health and well-being.