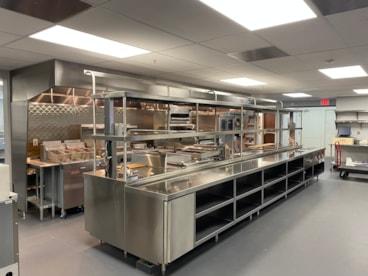 For this comprehensive renovation project, C&T was tasked with redesigning the Country Club of Buffalo's main kitchen as well as a secondary space.
The main kitchen was redesigned with a chef-focused approach, utilizing the input and ideas of the Joe Piazza, the country club's executive chef. During this process, all new equipment was procured by C&T, including a Delfield custom chef line that consisted of 8 large essential pieces requiring expert local tradesmen to install that we coordinated on the club's behalf. This grand unit has two cooler sections, one freezer section, multiple hot and cold wells, an ingredient rack and multiple food warming cabinets.
In the second space, C&T helped to renovate a small banquet kitchen. For this part of the process, C&T was required to remove the existing equipment, store and refurbish it, and reinstall the equipment alongside the new pieces selected specifically for the space.
C&T's focus on not just providing a shiny, new kitchen, but more thoughtful spaces, made room for increased efficiency and creativity for Chef Piazza. The updated kitchens will be integral to the club's vision of bringing in new members, hosting new events, and increasing involvement in the Buffalo community.