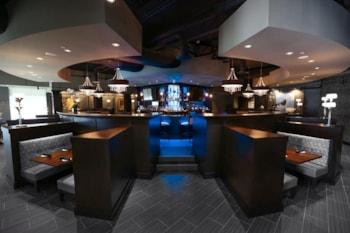 Johnny's Italian Steakhouse is a distinctly upscale steakhouse complimented with a rich Italian background featuring traditional and innovative items and a superior wine list. The classic interior is reminiscent of the supper clubs of yesteryear. The sophisticated design of the restaurant is welcoming and warm; the illuminated lighting creates an air of mystique and privacy. The classic sounds of Sinatra, Dean and Sammy Davis, Jr. as well as contemporary crooners like Michael Bublé and Harry Connick Jr. surround the restaurant and infuse an aura and rhythm all of its own.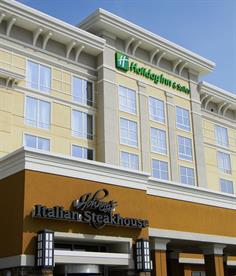 Construction was completed on the Johnny's Italian Steakhouse at the brand new Holiday Inn & Suites in East Peoria, Illinois at the end of last summer. The hotel and restaurant opened in September of 2013 and is proud to be one of the first LEED Silver Certified hotels in the state. Johnny's Italian Steakhouse is just one of Heart of America Group's many concepts. (I'd like to say something here about their being exclusively linked to Holiday Inn moving forward -- if it's true. Please advise.)
Jack Grabeel, the C&T Design Iowa Branch Manager, has been working with Heart of America Group on the design of multiple Johnny's Italian Steakhouse locations. Jack designed both the kitchen and bar spaces for the Peoria, Illinois location. The kitchen not only serves Johnny's, but also serves the hotels banquet needs, adding additional challenges to the overall space planning and layout.
Dan Whalen, the Vice President of Heart of America Group, says what working with Jack on the Johnny's Italian Steakhouse concept best:
"Jack Grabeel has been a critical team member in developing the Johnny's Italian Steakhouse concetp from beginning more than 12 years ago. Jack's unique experience as a chef, restaurant operator, restaurant builder, chain operations manager, kitchen designer, and equipment sales manager has allowed Johnny's to open new stores with customer designed kitchens expertly designed for the space and menu. The skill that has helped Heart of America Group the most is Jack's ability to adapt the Johnny's kitchen and bars to unique and different floor layouts in our hotels. A few of these designs have seemed very challenging but have worked superbly. Jack's skill with his state of the art CAD kitchen design software program allows quick and simple changes to the design. This software, along with Jack's experience, gives Heart of America Group not only a kitchen design layout but complete ventilation, electric, gas, water and sewer design sheets taht make subcontracting for these trades very easy. Jack's long-term contacts with custom stainless steel fabrication companies allows us to purchase the required custom equipment at very little upcharge over standard catalog listings. Jack's knowledge of the inner workings of the equipment business along with C&T Design's purchasing power allows us to equipm our kitchens with top quality equipment within our tight budgets. Jack's willingness to field calls from plumbers, electricians and equipment installers has taken a major load off our project managers when technical questions arise. I cannot imagine building a new Johnny's without Jack Grabeel's experience, skill and knowledge."