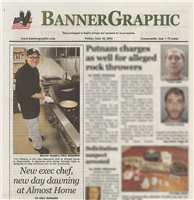 Gail Smith, owner of Almost Home in Greencastle, IN, has been working with Emily McClelland here at the C&T Design Indianapolis office for the past year. What started as a redesign of the kitchen, specifically the dishroom and prep, cooking, and baking areas, rapidly turned into a much bigger project as an inspired Gail took off running. She is currently in the process of finalizing design decisions and getting that work completed in the front of the house now that the work in the back of the house is complete.
An article on the front page of Greencastle's Banner Graphic last week highlighted these changes as well as another exciting change. Almost Home now has a new executive chef, Troy Roberts, and a new attitude toward the food - "contemporary cuisine," as Gail refers to it.
As noted on their website, Almost Home was named a recipient of OpenTable's winner of the Diners' Choice 2015 award. We are excited to see what these new changes bring.
Best of luck, Almost Home!