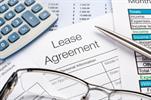 The reality for restauranteurs, particularly people new to the business, is that financing can be difficult to come by. We have compiled a list of companies some of our customers have used and the names of contacts within those organizations that will do their best to help you get the financing you need.
If you need foodservice equipment today but have to spread the cost of that equipment out over a period of time to effectively manage your business expenses, then look no further.
The leasing options page is also accessible under the Resources tab from any page on our website.