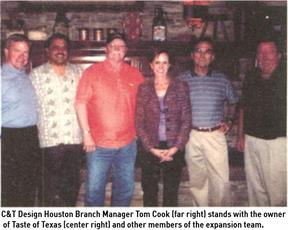 Back in 1990, before joining C&T Design as the Branch Manager of the Houston office, Tom Cook was approached by Taste of Texas and their architect, Carl Reed, to design their new kitchen. They were in a pickle. Their lease had been canceled, and they had a whopping six months to get out. With that short deadline looming, Taste of Texas was able to purchase a piece of land and get their restaurant built.

Tom designed the kitchen all those years ago to serve 3,000 meals a week. A testament to Tom's knack for operational flow and design and Taste of Texas' willingness to evolve and be flexible, Taste of Texas now serves 7,000 meals a week out of that same kitchen. In the last year they decided to move forward with a kitchen expansion to better suit their growing operation's needs. Tom Cook will once again serve as kitchen designer. Taste of Texas plans on completing the expansion by next summer.
Best of luck, Taste of Texas!