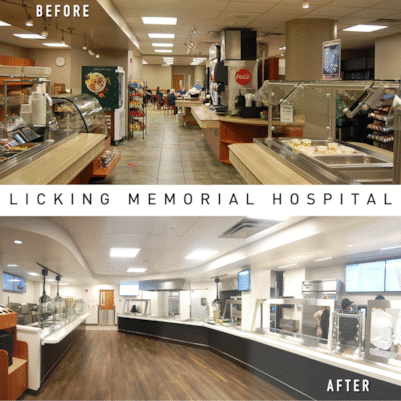 Licking Memorial Hospital (LMH), located in Newark, OH, is a 227-bed facility that is home to over ​​2,150 employees and staff. With the dining space serving over 85% of LMH's doctors and staff, this heavily trafficked area was overdue for a revamp.
The project's objective started out as a simple spec and supply of reach-in glass door merchandisers and a walk-in. After many lengthy discussions regarding the long-term goals of the dining program, the project pivoted from a simple replacement into a full renovation of the hospital's primary servery.
After several months of consulting and much input from the LMH chefs, who all desired more menu flexibility and equipment adaptability to achieve that, the space was transformed into a more efficient and streamlined dining experience!
While the footprint didn't change, the implementation of the glass door reach-ins, a lower profile drink station for increased visibility, and other modern elements that allow for more menu versatility made for a completey different feel and experience. All of these changes ultimately lead to increased participation and enthusiasm.
We appreciate the opportunity to be a part of this project!