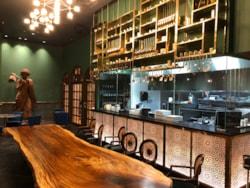 Musaafer by the Spice Route Company is a high-end Indian restaurant located in one of Texas' largest shopping malls, the Galleria. Our Houston office designed the kitchen and bar areas to support the exhibition style of cooking in this grand space. This, combined with the owners custom artwork, antiques and handcrafted pieces from India, creates a truly immersive experience that has taken over two years to complete. Influenced by India's spice markets, royal palaces and opulent private homes, this 10,000 square foot project, spanning across ten different dining spaces, allows guests to journey through the 29 states of India (the word musaafer,
Hindi for "traveler) and have a lavish experience.
If you are in the Houston area, make sure to check out Musaafer for an upscale Indian dining experience.
C&T Design Houston's Charles Munro worked on this project.