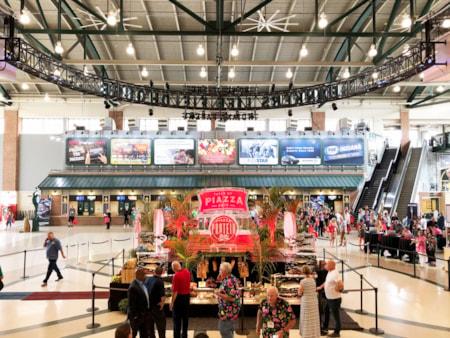 Last week's Taste of Piazza was a huge success! This was Piazza's fifth show in ten years. Every other year, Piazza invites their customers to come try food and new products from over 100 of their vendors lining the hallways of the Main Concourse at Bankers Life Fieldhouse.
The day started out with a cooking competition. The grand prize was a Red Gold-sponsored Golden Ticket to compete at the 2019 World Food Championships in Austin, Texas taking place October 16-20. These four cheftestants, from around Indiana, came out to compete:
Chef Sal Fernandez, Executive Chef at Bridges Craft Pizza & Wine Bar in Greencastle
Chef Steven Hackney, Line Chef at Meridian Hills Country Club in Indianapolis
Chef Justin Miller, Executive Chef at Anthony's Chophouse in Carmel
Chef Austin Smith, Executive Chef at the Horizon Convention Center in Muncie
Each chef was able to bring a sous chef to assist in the creation of their dish. Piazza provided the food for the competition. Each team was given a mystery box comprised of the same protein options and access to a shared pantry. They were also alotted time to shop the floor and Piazza display to get specialty items from exhibiting vendors.
C&T Design was responsible for constructing the kitchen space for the competition. With no electricity or plumbing in the competition space, building the kitchen was a challenging task. The amazing Bankers Life staff brought us both power and water. Each competitor's station consisted of an Advance Tabco mirrored prep table, Vollrath induction burners, Vollrath pots and pans, and Ivy Tech-provided utensils. Other equipment brought in for the chefs to use communally were Hamilton Beach countertop and immersion blenders, a TurboChef SOTA high speed oven, shelving, refrigeration and a 3-compartment sink to keep things clean during the competition.
With 50 minutes on the clock, the chefs got to work. Healther Tallman of Indiana Grown (Indiana State Department of Agriculture) and Sean Copeland who hosts a morning show on B105.7 as well as Majic 95.1, our terrific emcees, entertained the audience with questions to the chefs about their experience and the dishes they were preparing while providing hilarious banter.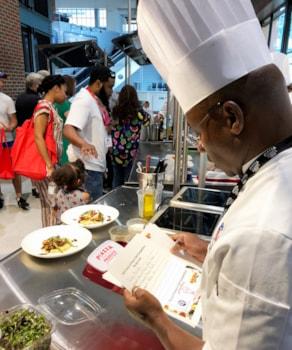 During the cooking portion of the competition, one of the four judges, the floor judge, walked around the "kitchen" to each station and took notes on technique, sanitation, and safety. He scored each chef only on these criteria.
The other three judges were not present during the prep or cooking of the dishes to remain impartial. These judges were unaware of who cooked what dish until after they tasted and scored each dish. These judges were responsible for taking notes on taste and presentation.
The judges were (pictured below from left to right):
Chef Jeff Bricker, Hospitality Program Chair at Ivy Tech Community College and owner of Brick House Vinaigrettes
Chef Dave Danielson, Executive Chef at Churchill Downs
Seth Grant, Associate Director of Culinary Services and Business Operations at Eskenazi Health
Chef Glenn Brown, CEO at the FlatIron Inc. (pictured above judging on the floor)
As the scores were tallied, each chef had the opportunity to talk about their dish to the crowd and judges about why they chose the protein they did and explain each decision they made throughout the competition.
And the winner is.. with a turkey dish.. Chef Justin Miller! He is heading to Austin, Texas in October to compete at the World Food Championships. Best of luck, Justin!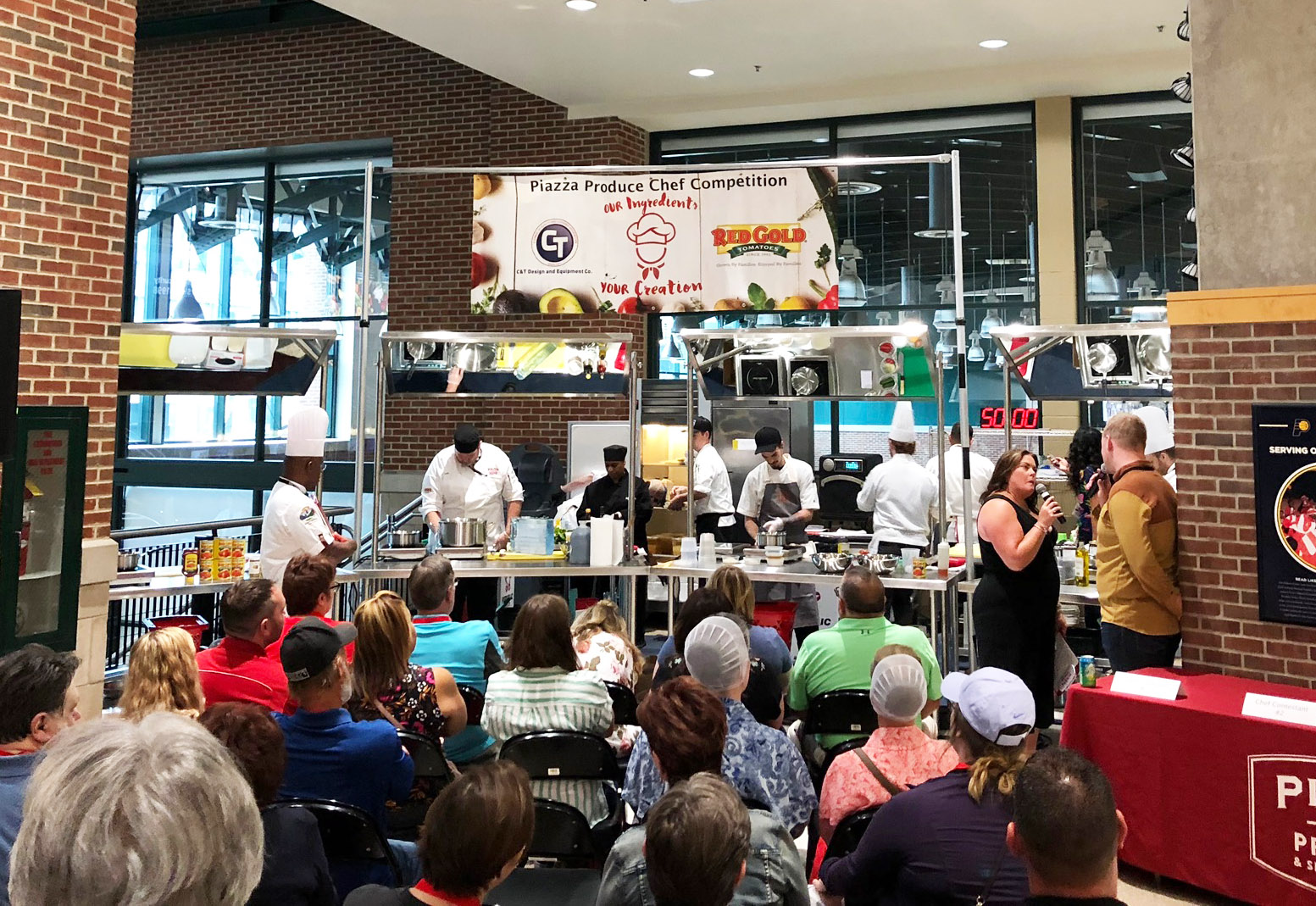 50 minutes on the clock. Let the games begin!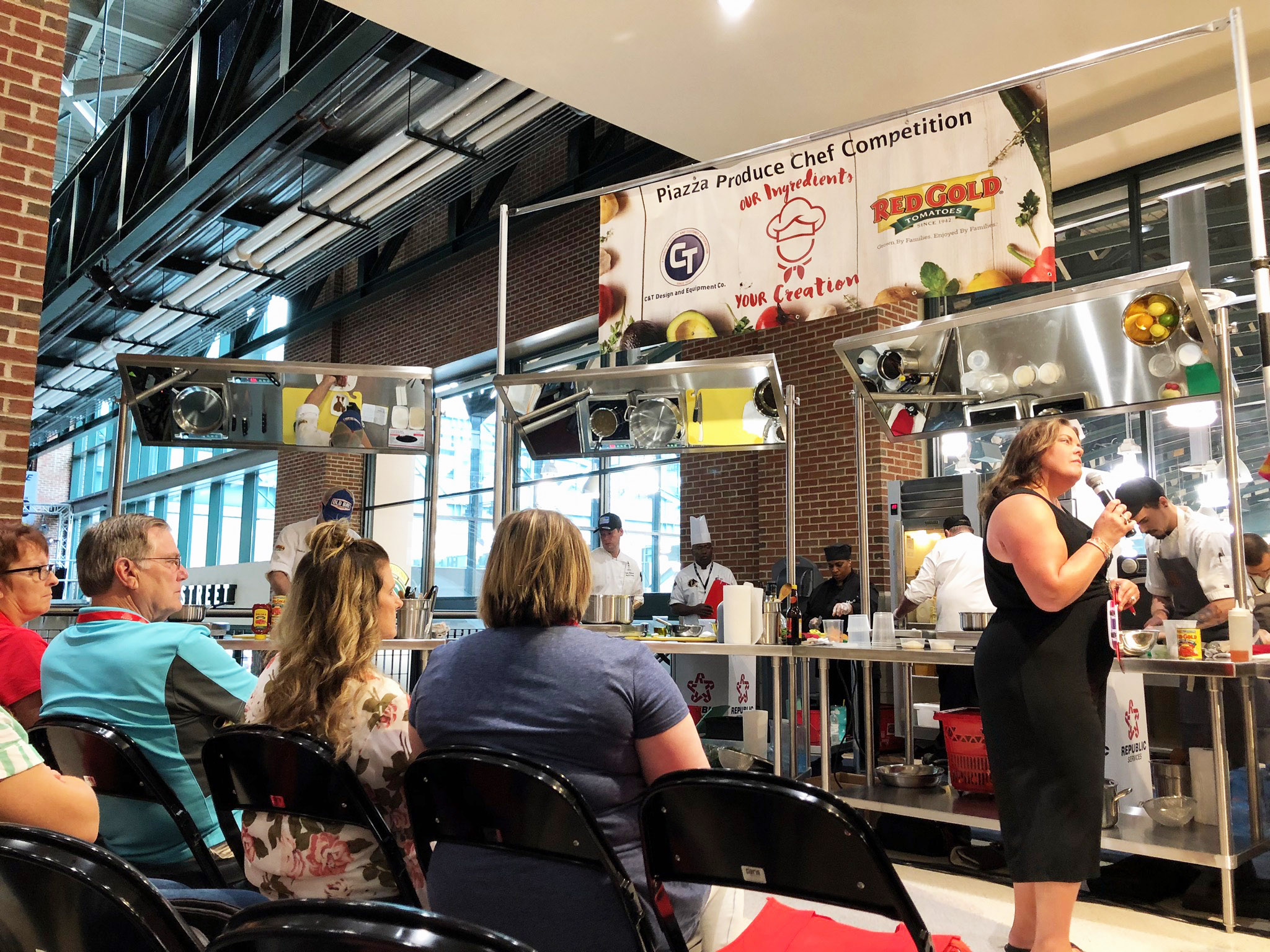 Advance Tabco mirrored prep tables allow the audience to watch the action from above. (Pictured: Vollrath induction burners.)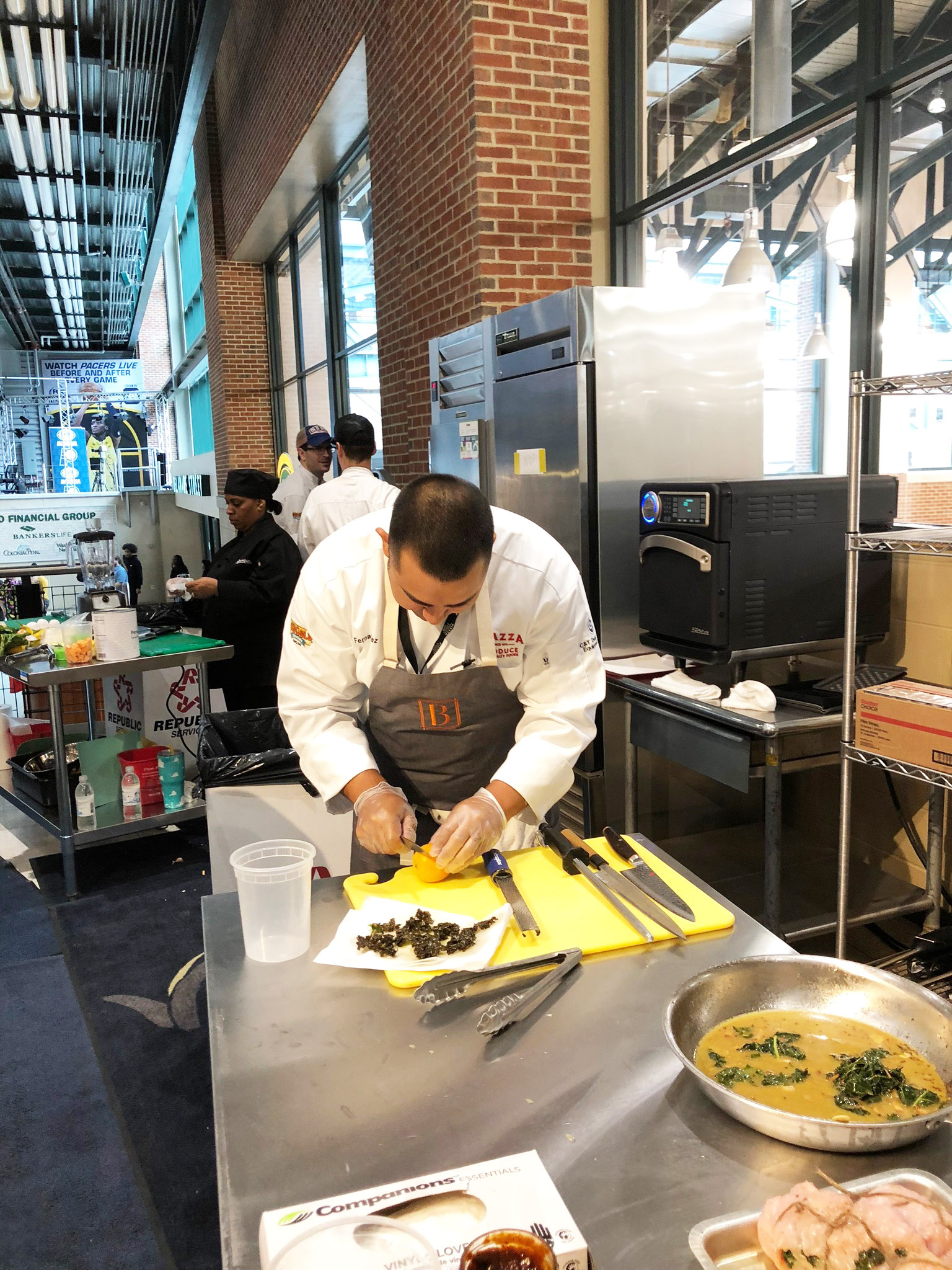 Chef Fernandez chopping an ingredient for his dish.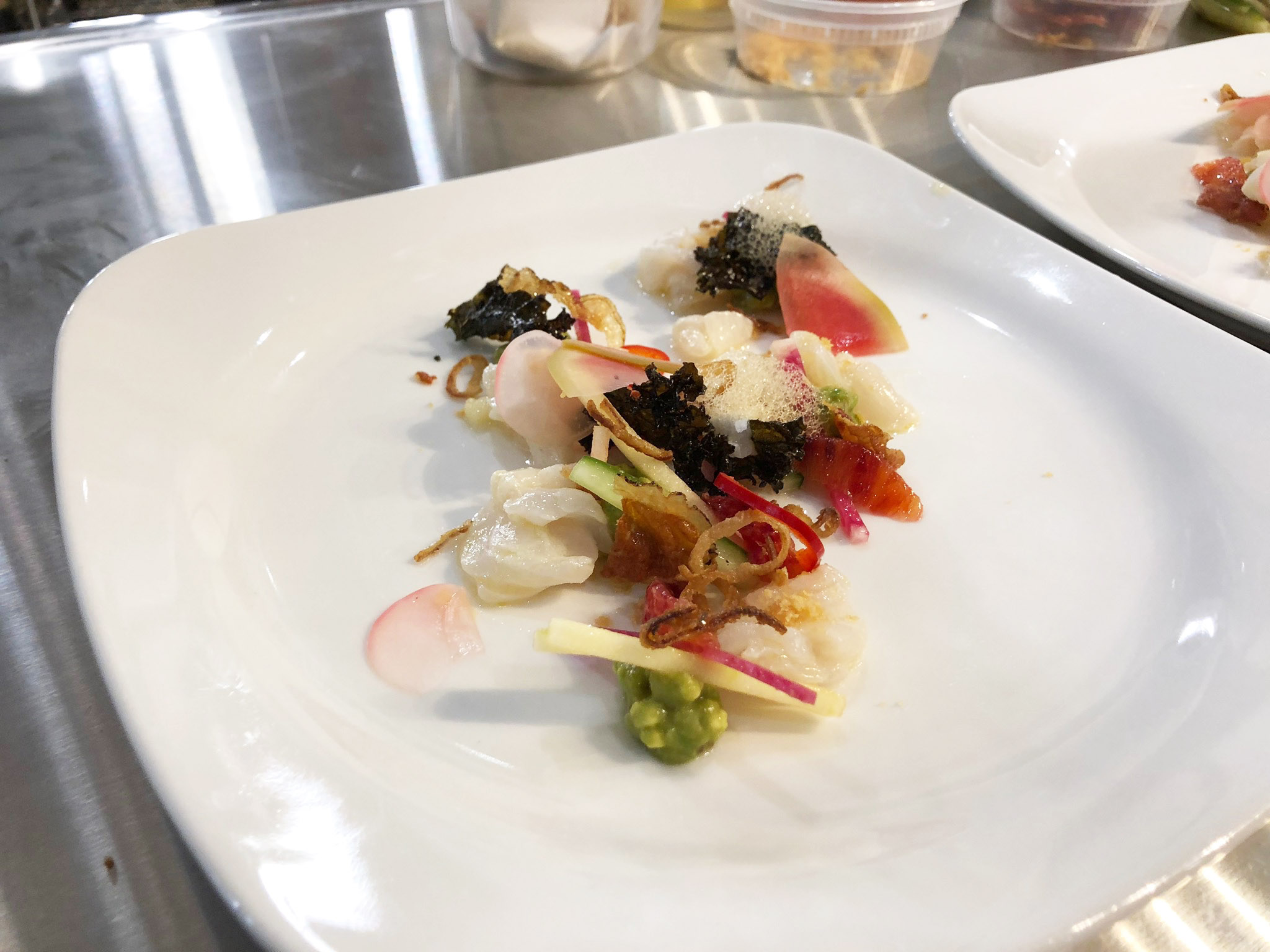 Chef Fernandez's sea bass crudo.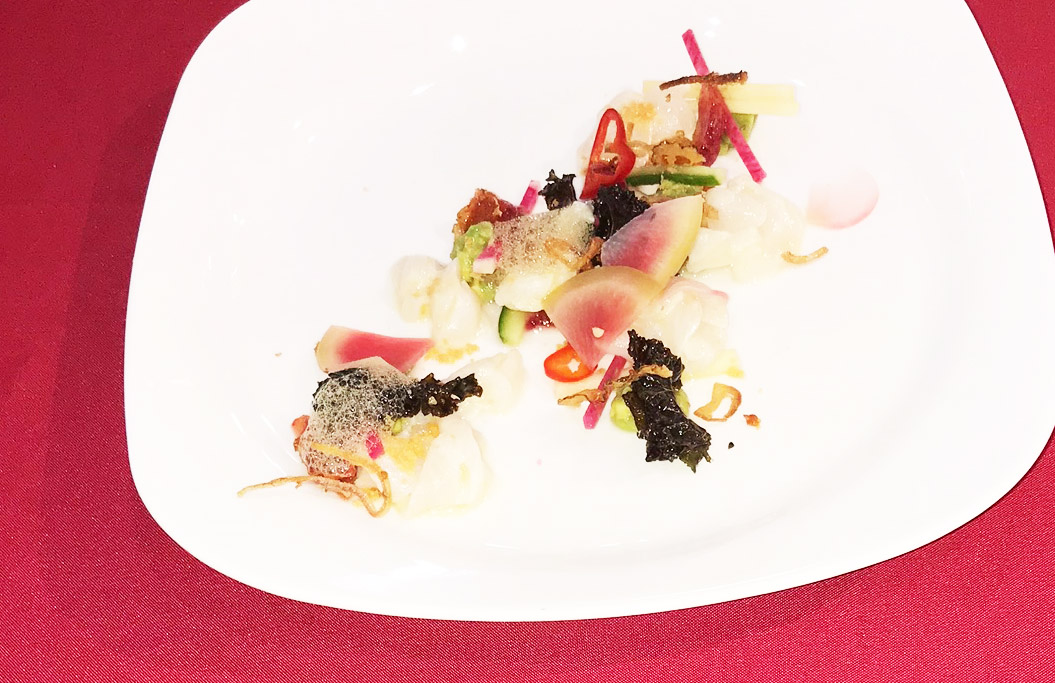 Second place dish.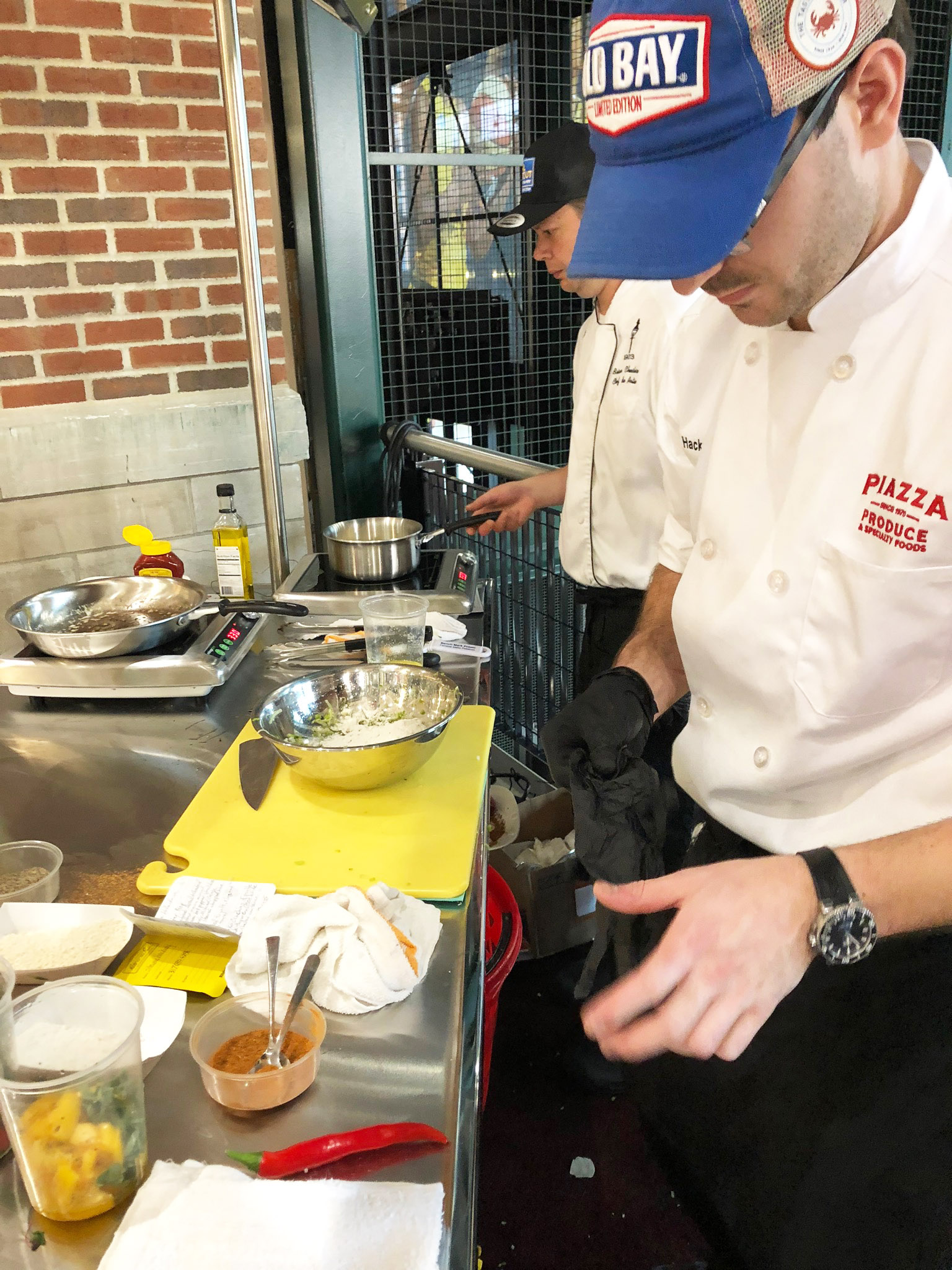 Chef Hackney focuses intently on his fritter.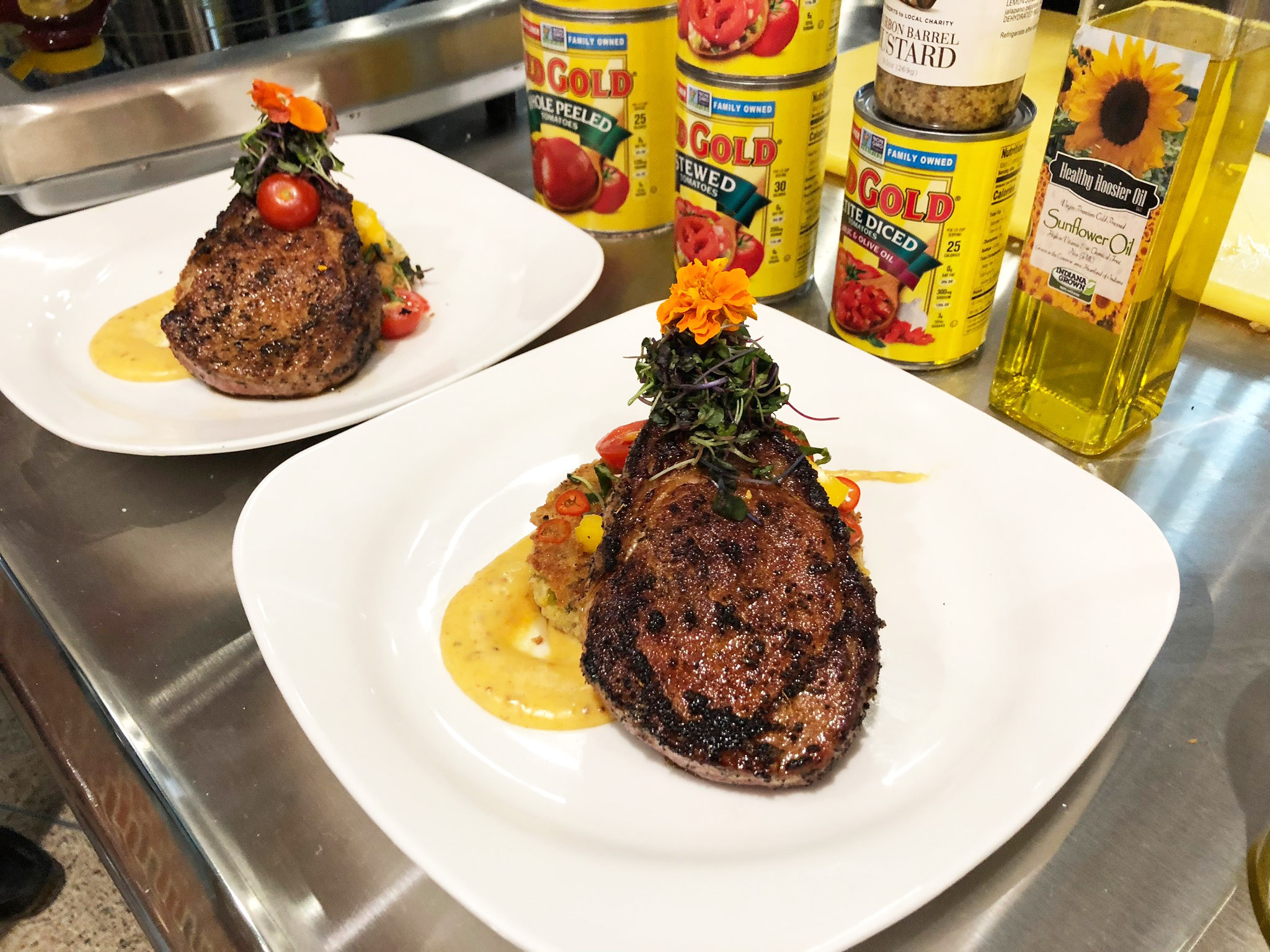 Chef Hackney's cajun coffee pork chop perched on a cajun zucchini fritter.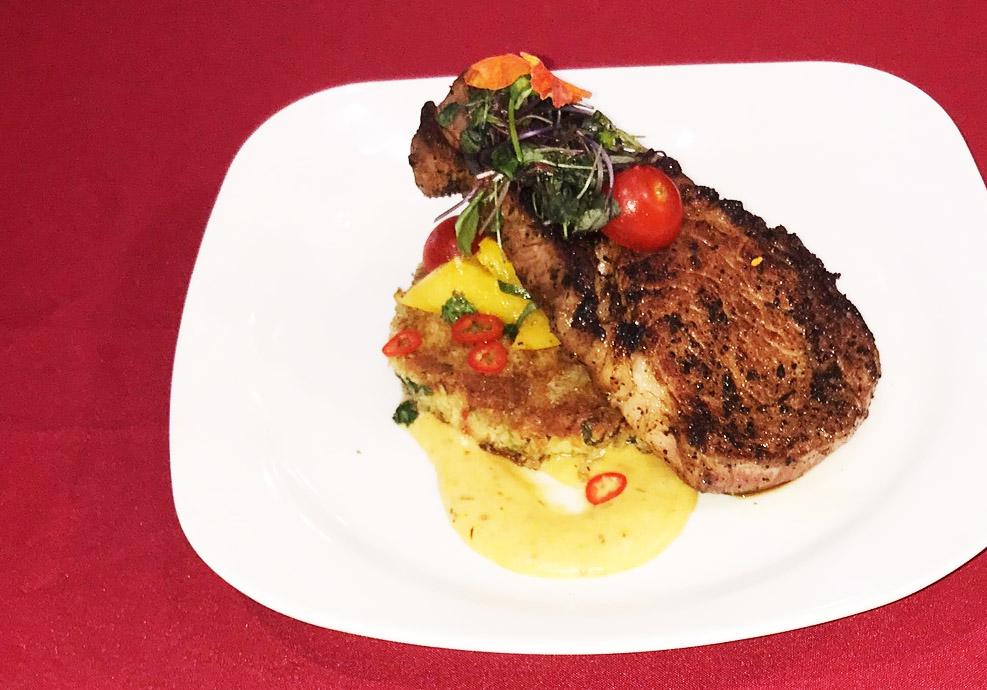 Cajun coffee pork and a cajun zucchini fritter.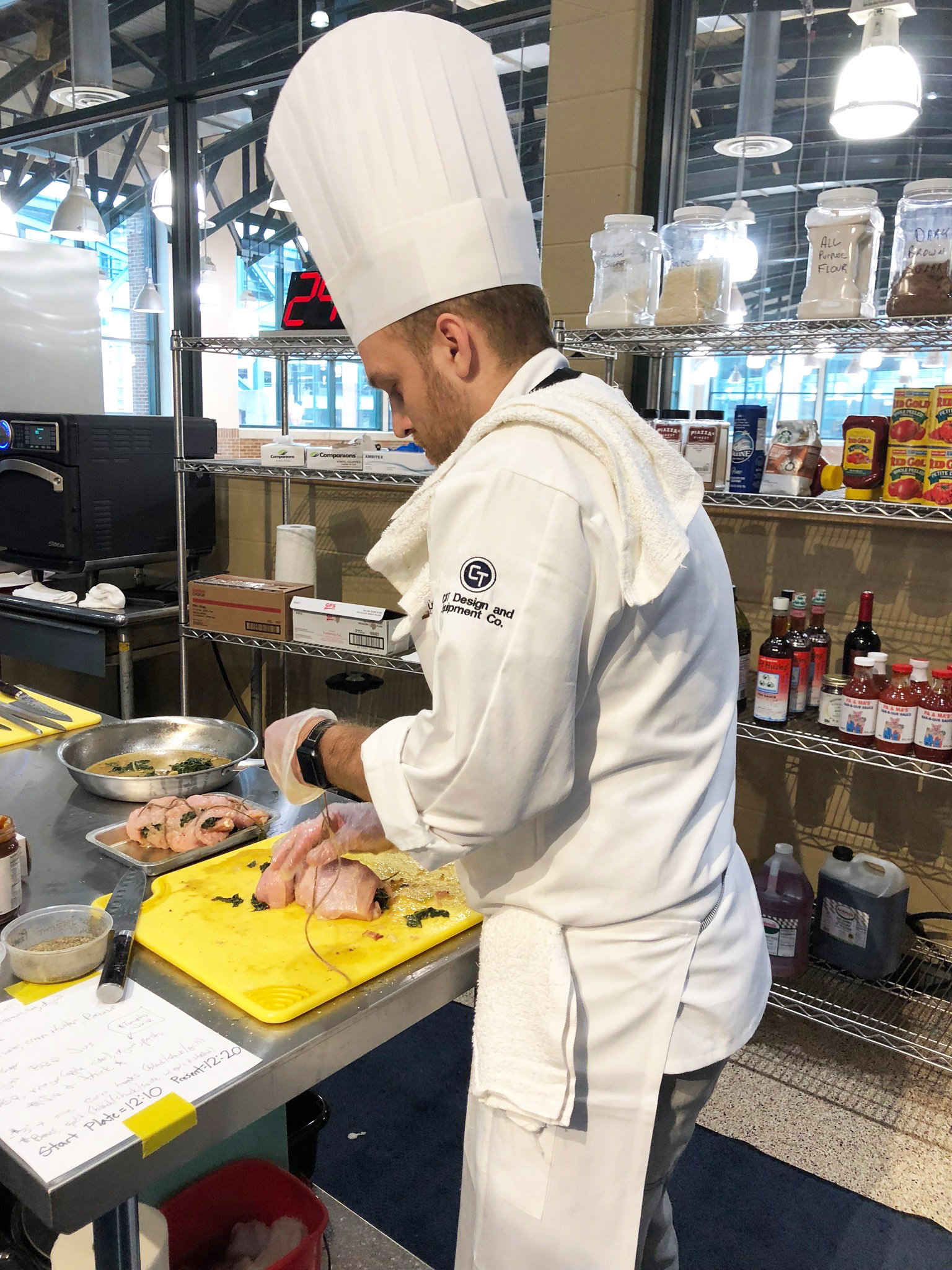 Chef Miller prepares the turkey roulade for his dish.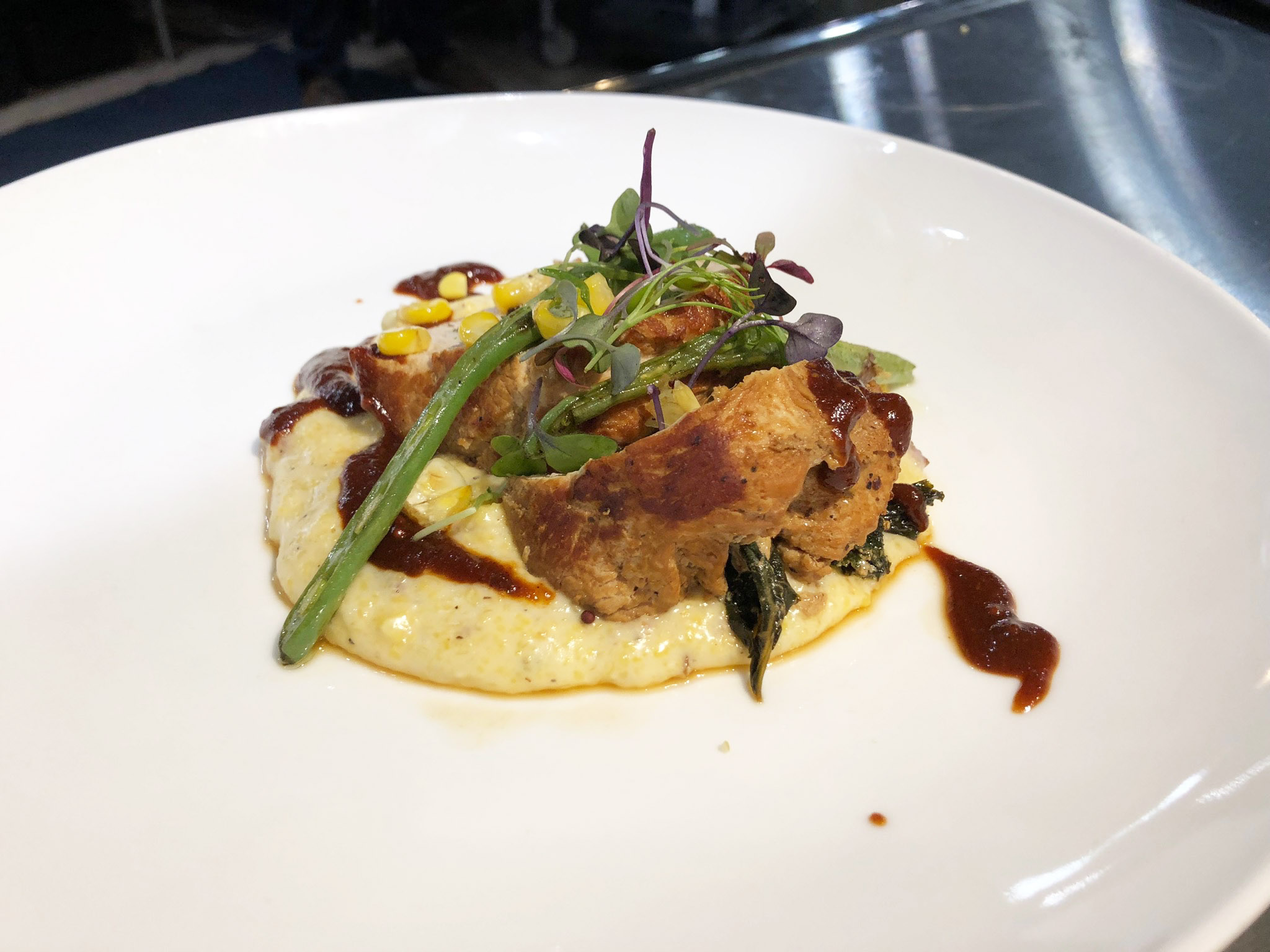 Chef Miller's turkey breast over popcorn polenta.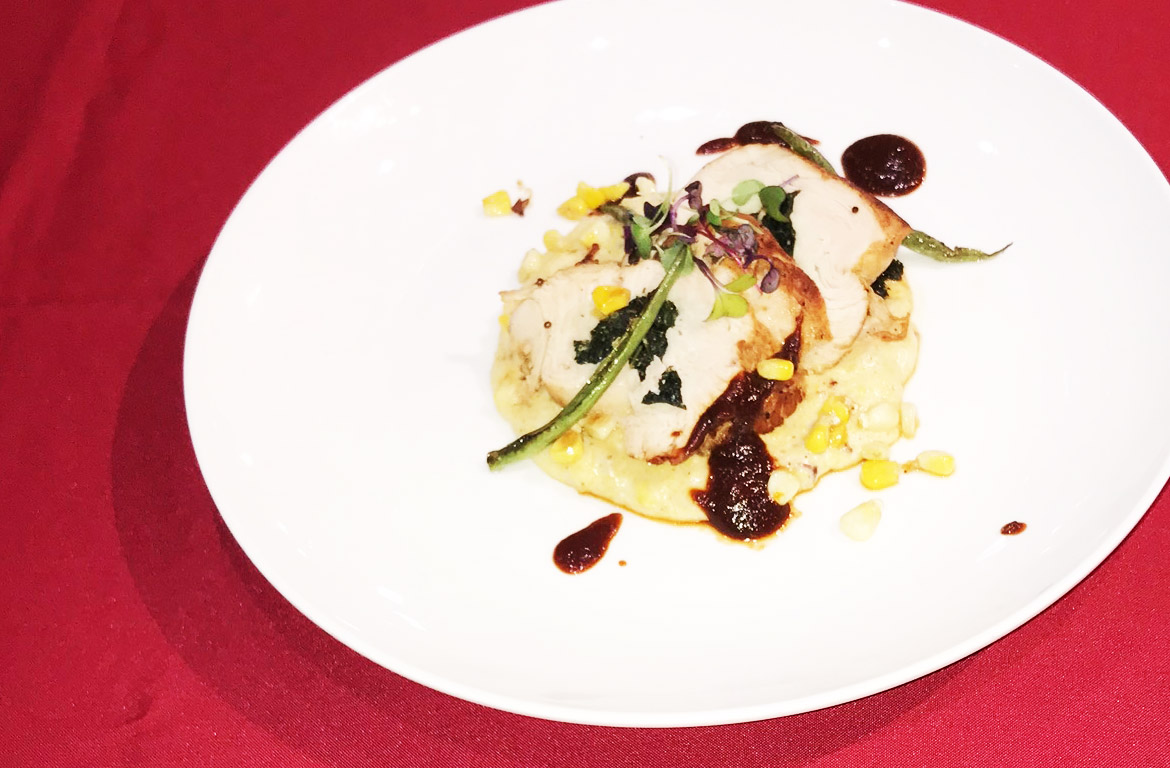 Turkey dazzle. The winning dish.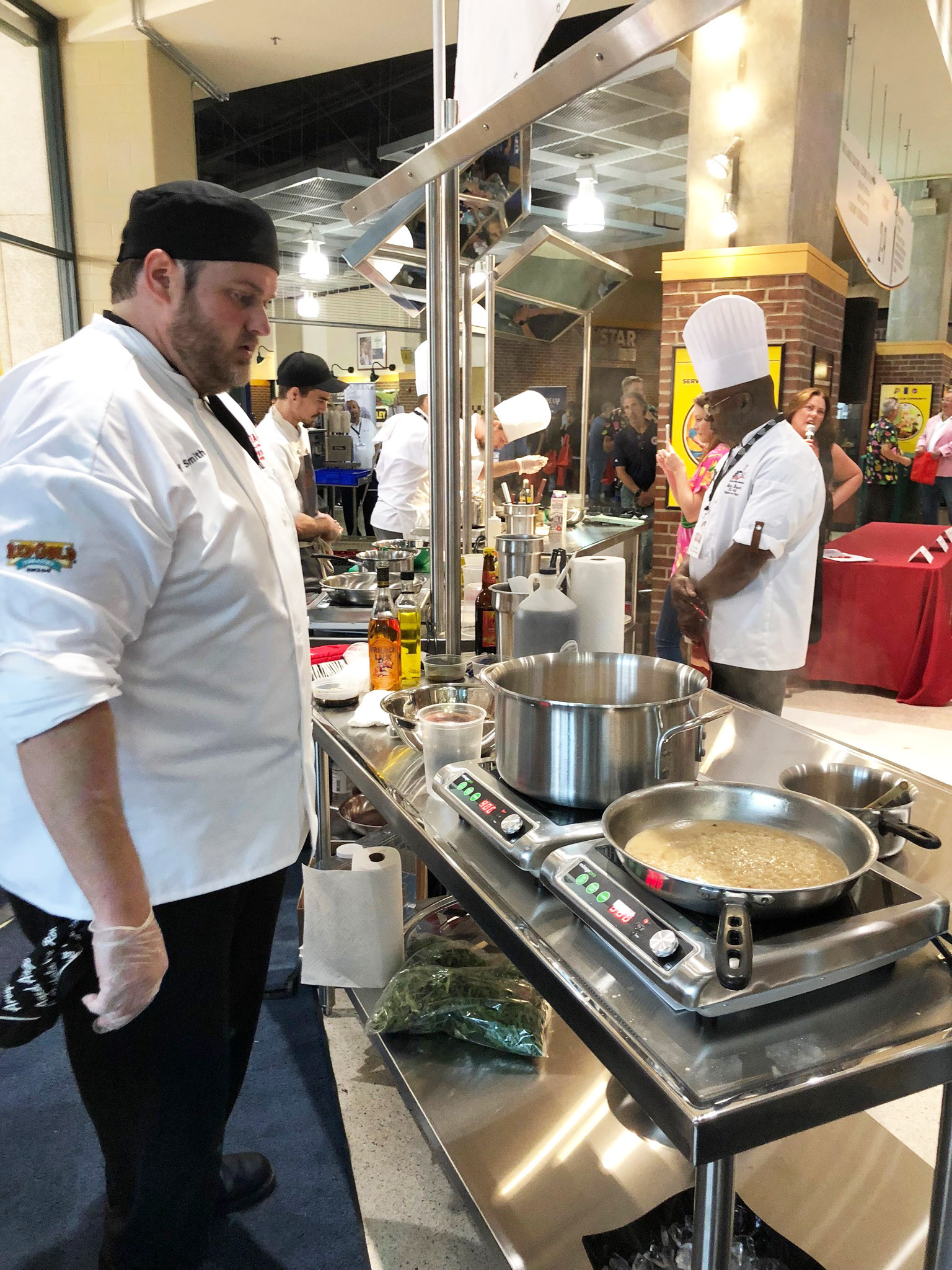 Chef Smith looks on as his risotto cooks.
Chef Smith's maple-glazed pork chop with a sweet potato risotto.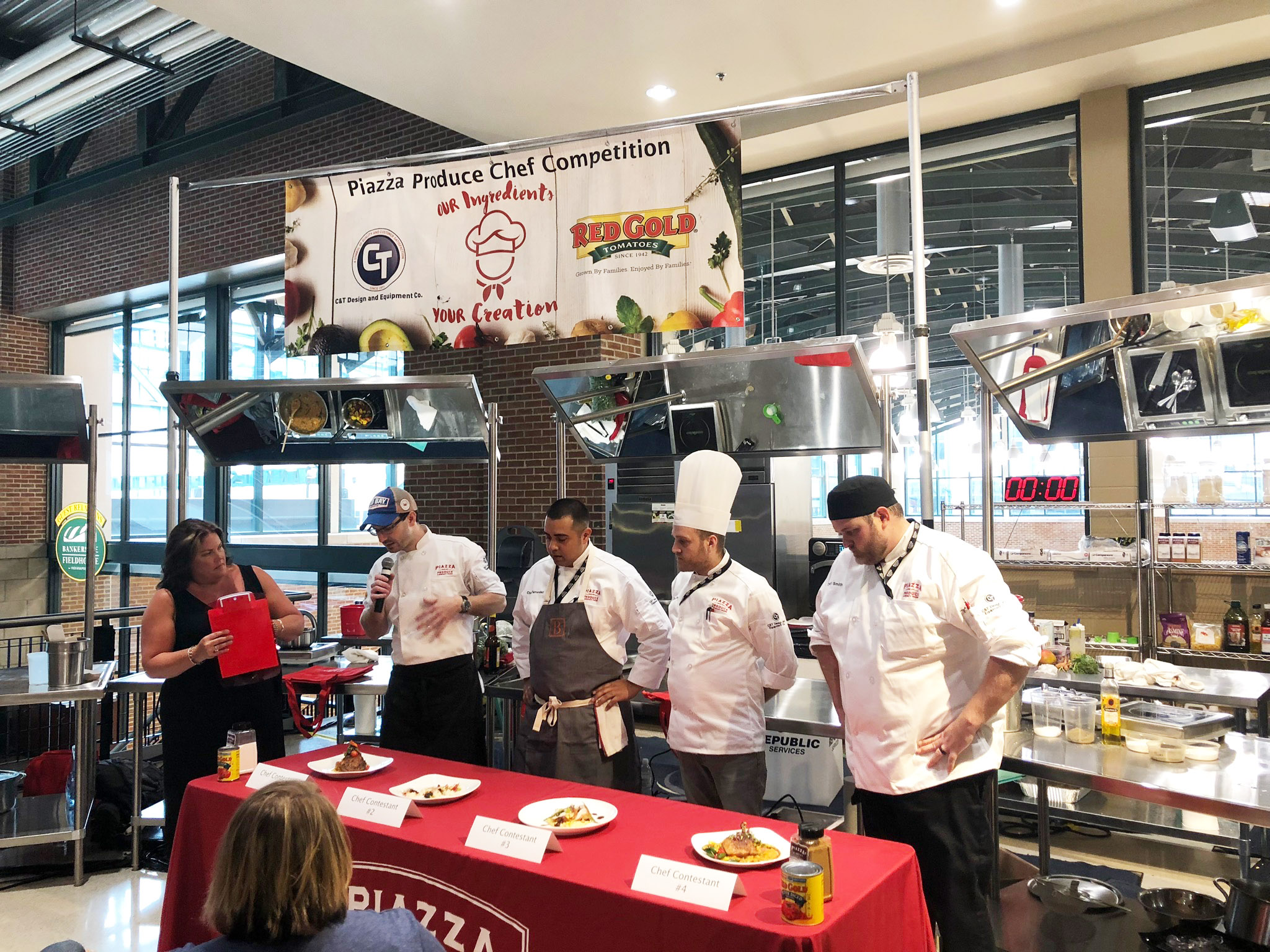 The chefs explain their dishes to Emcee Heather and the audience.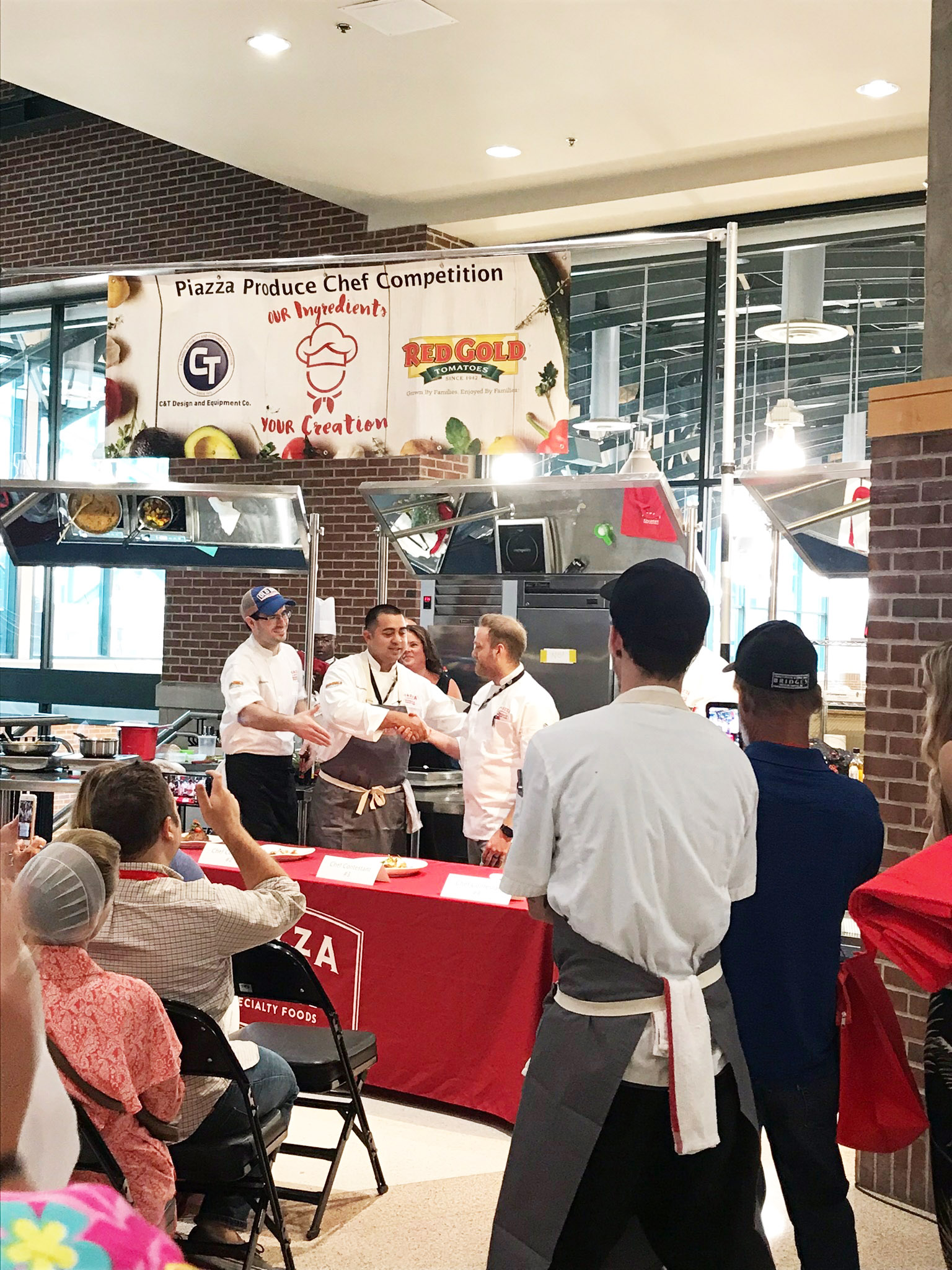 Chef Fernandez congratulates winner Chef Miller.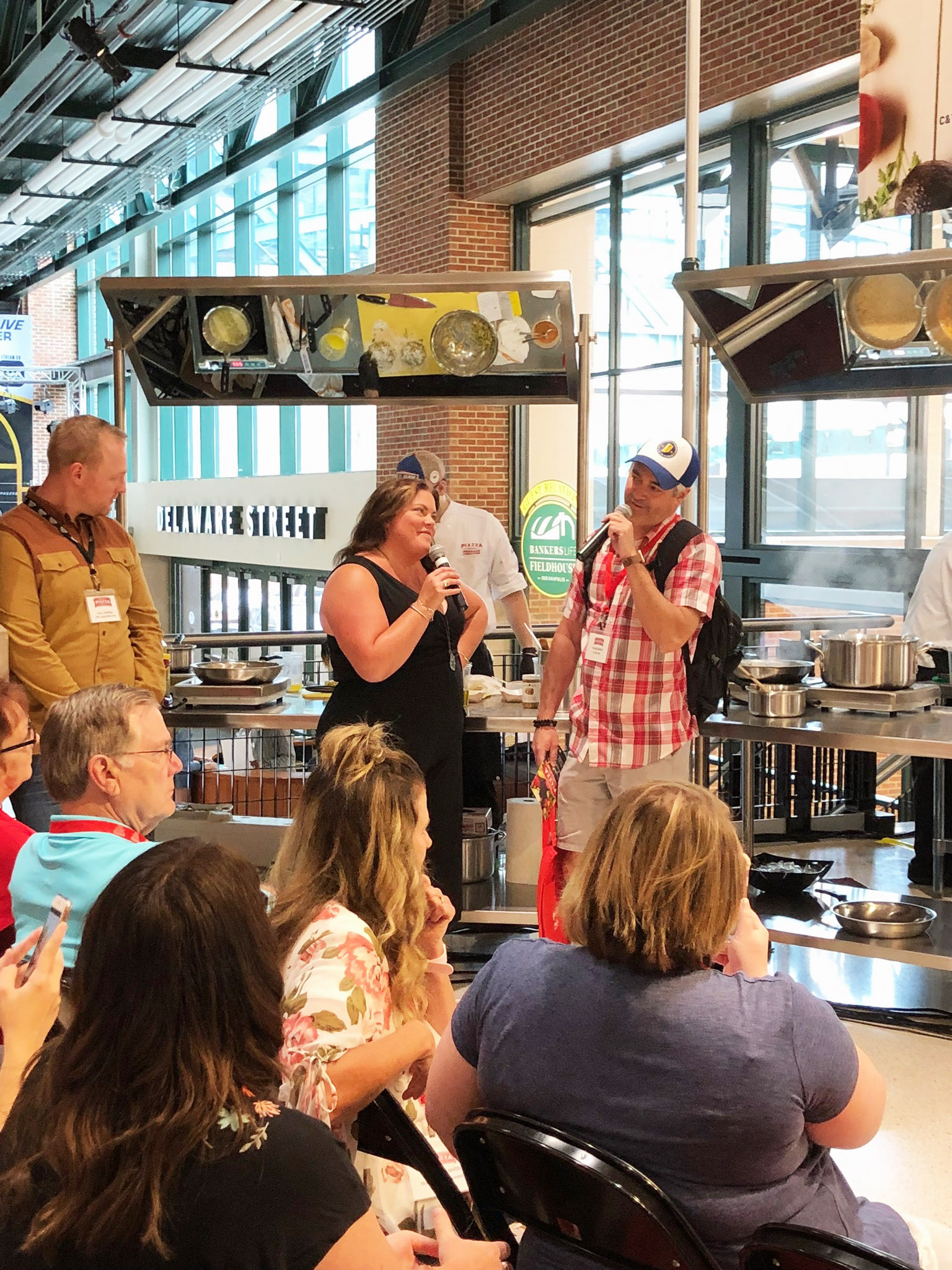 Heather chats with previous World Food Championships Chef category winner Craig Baker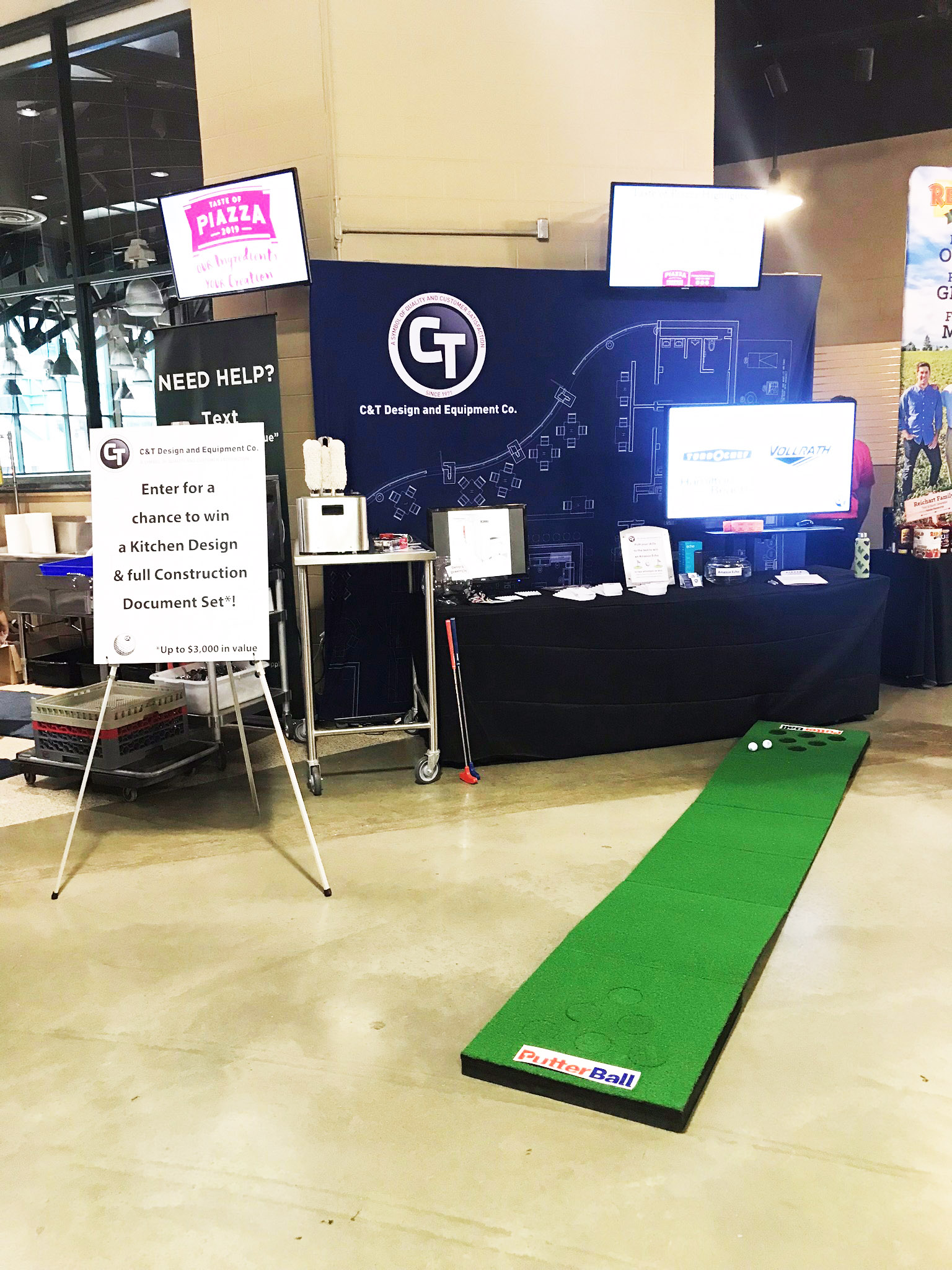 C&T Design's booth for the Taste of Piazza show. Drawing winners took home an Amazon Echo and a kitchen design & complete drawing set (up to a $3,000 value).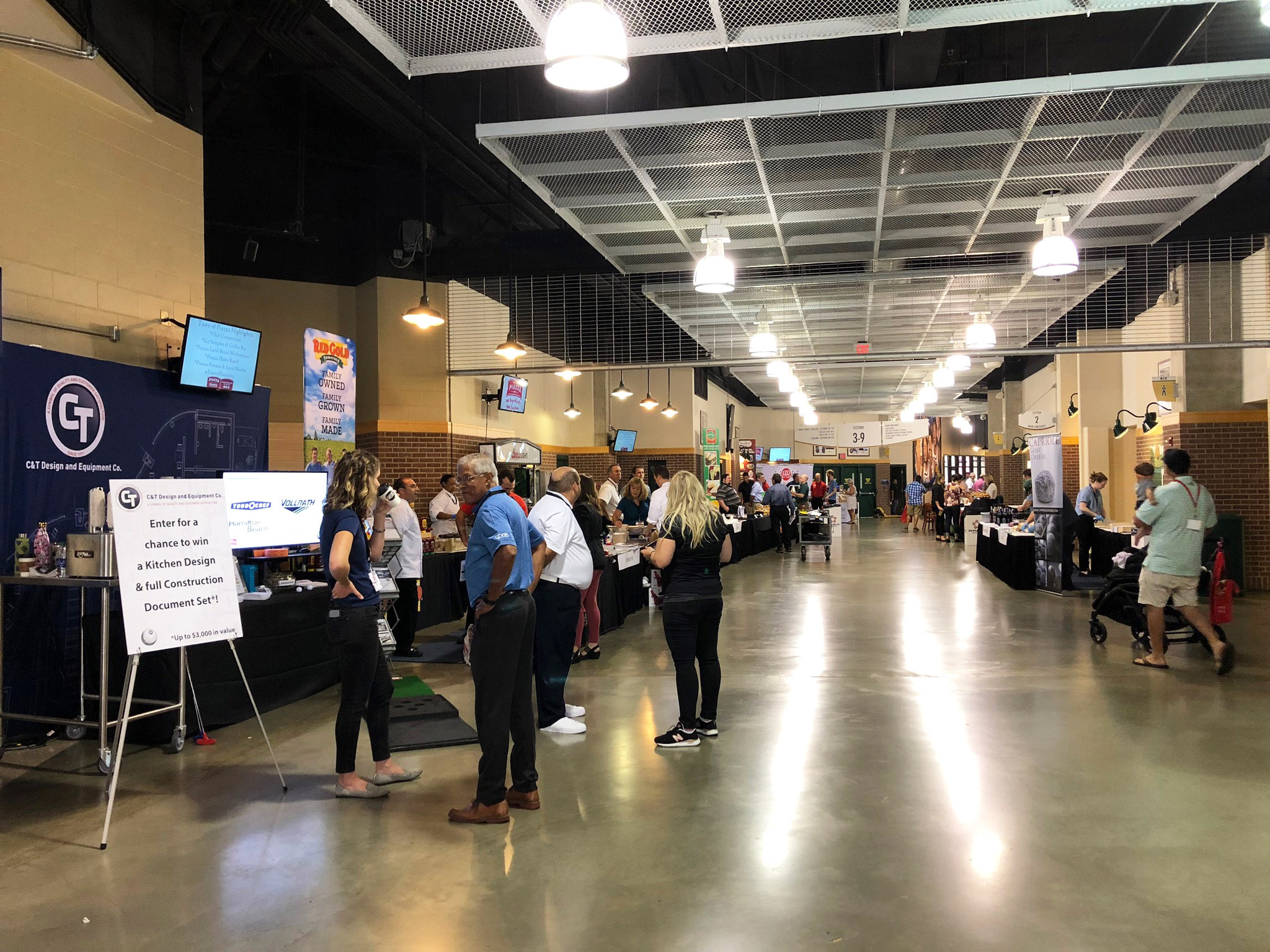 Main Concourse vendor hallway prior to the show's opening.
Piazza's produce display before the madness and mayhem.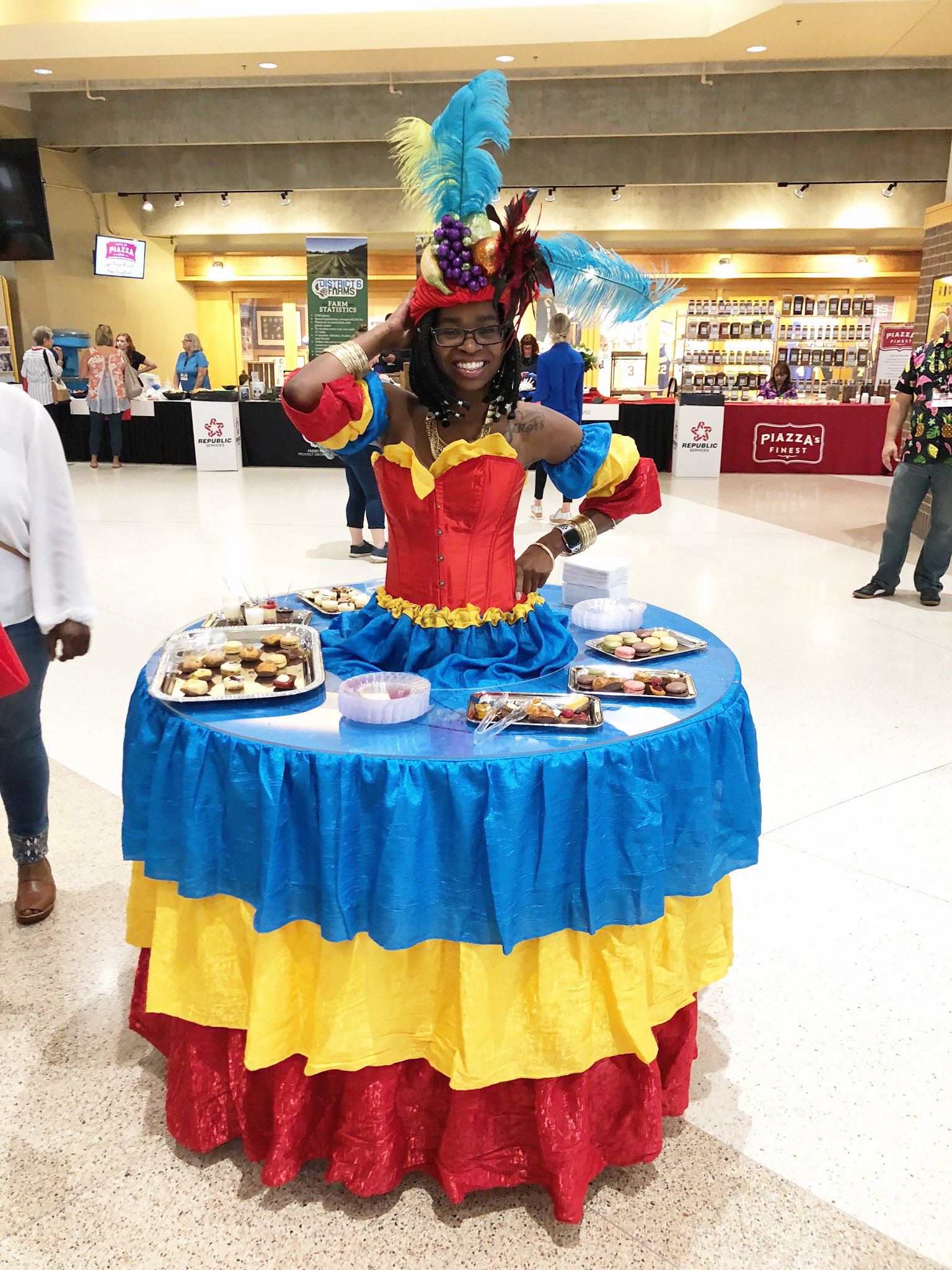 A beautiful lady doubles as a table. Were you able to catch a treat?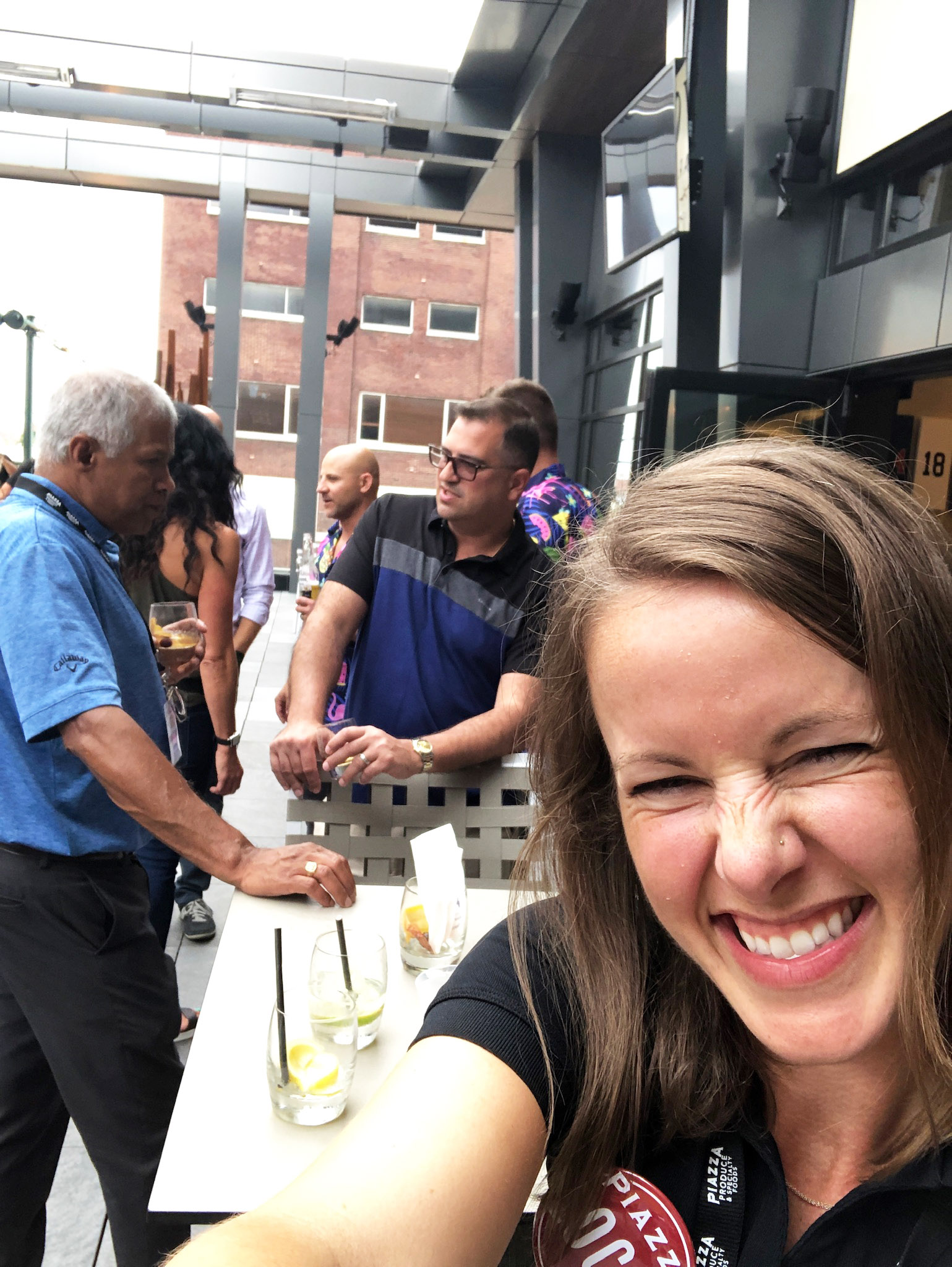 C&T Design's Libby Shoop and Gawain Guy relaxing at the post-show wrap party.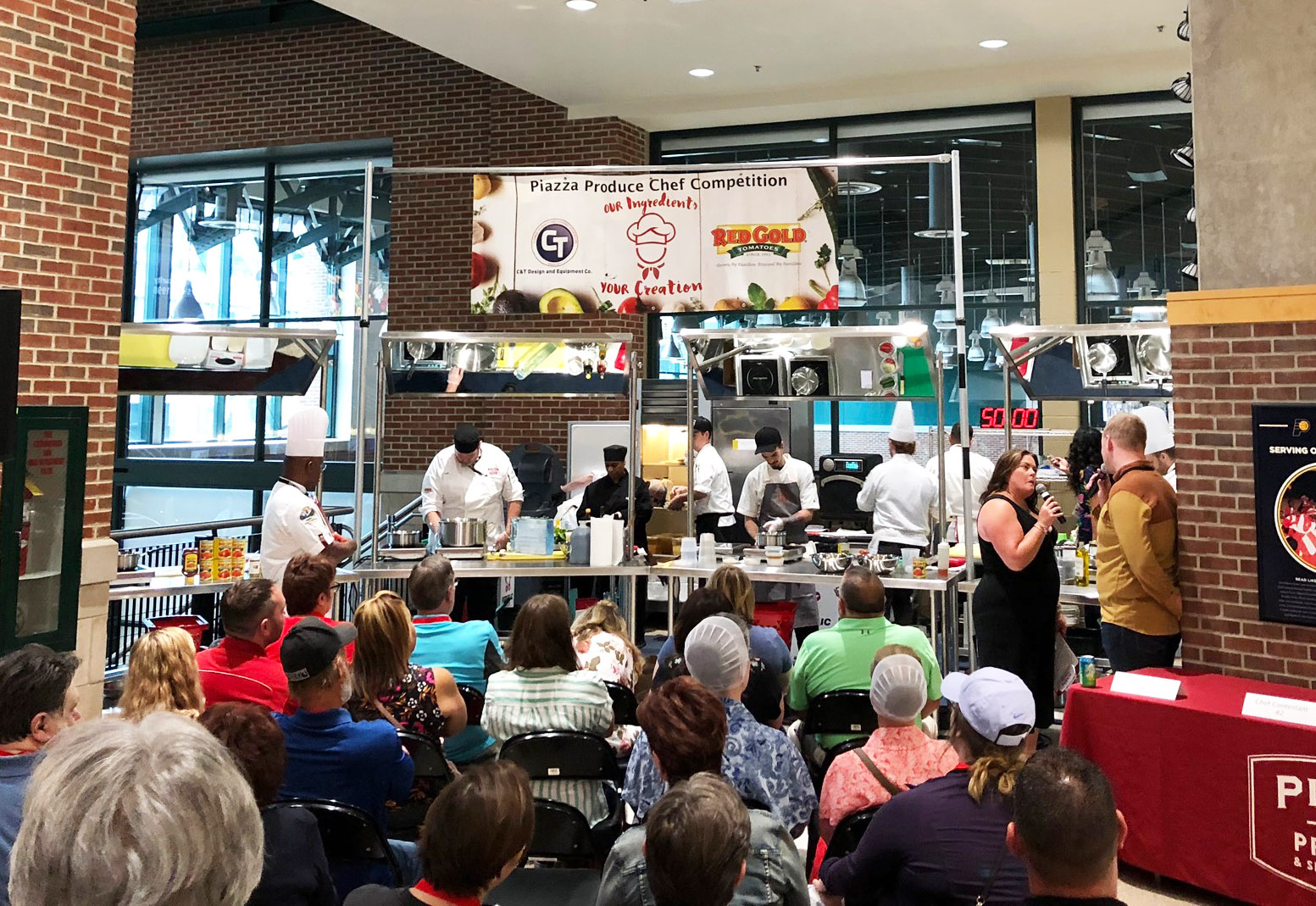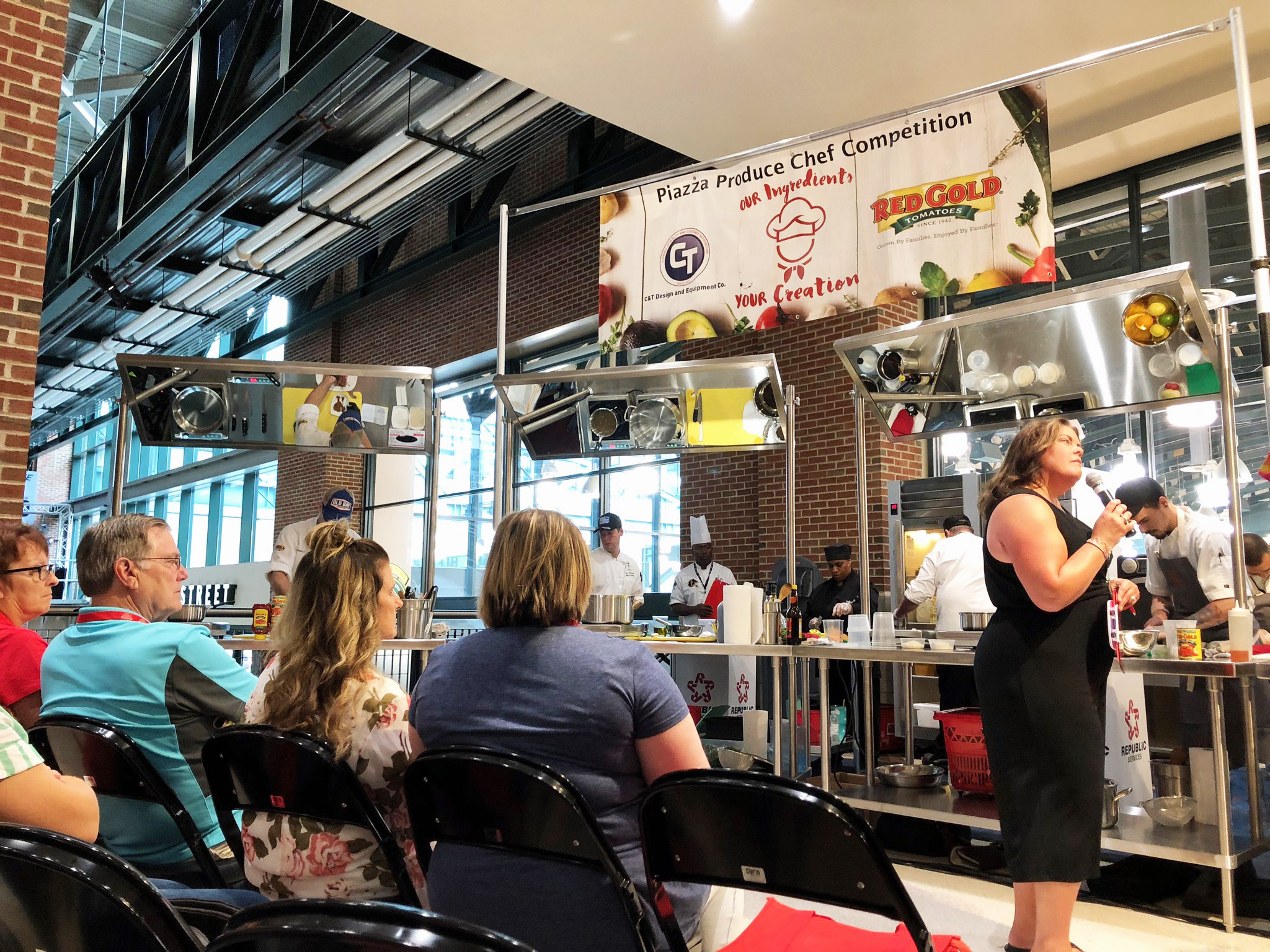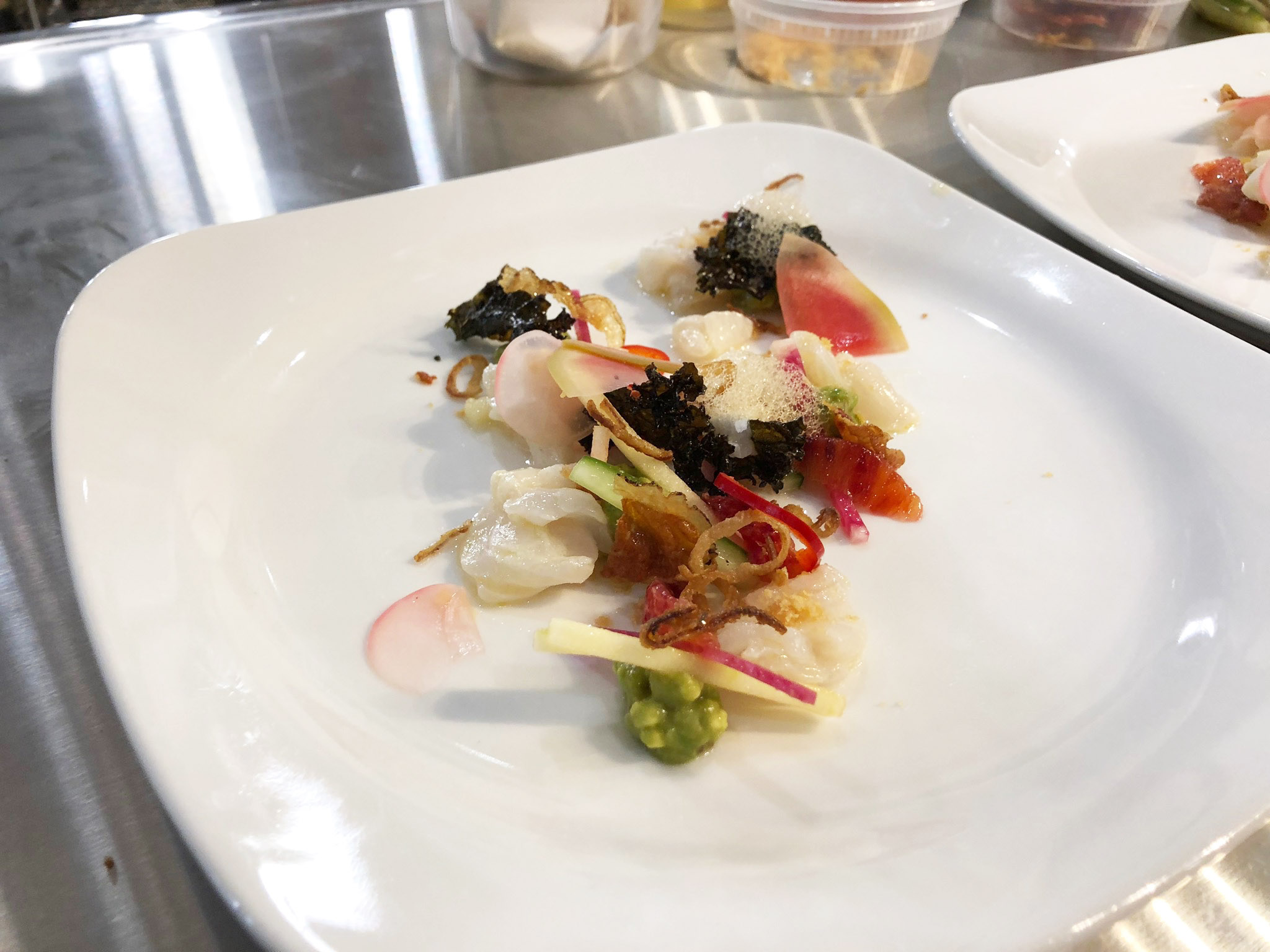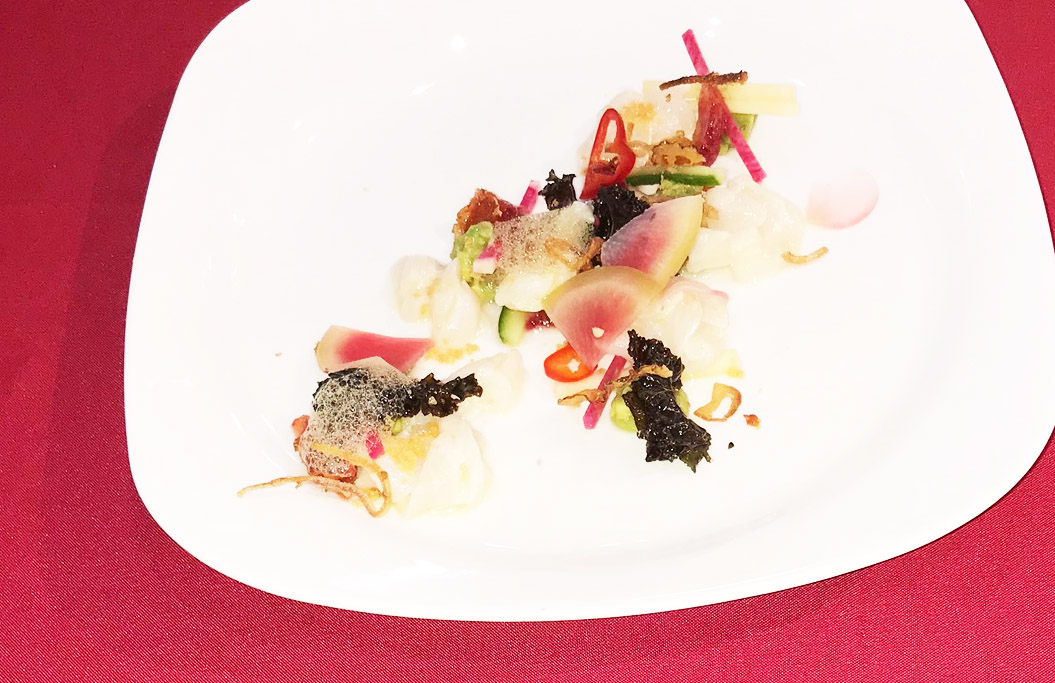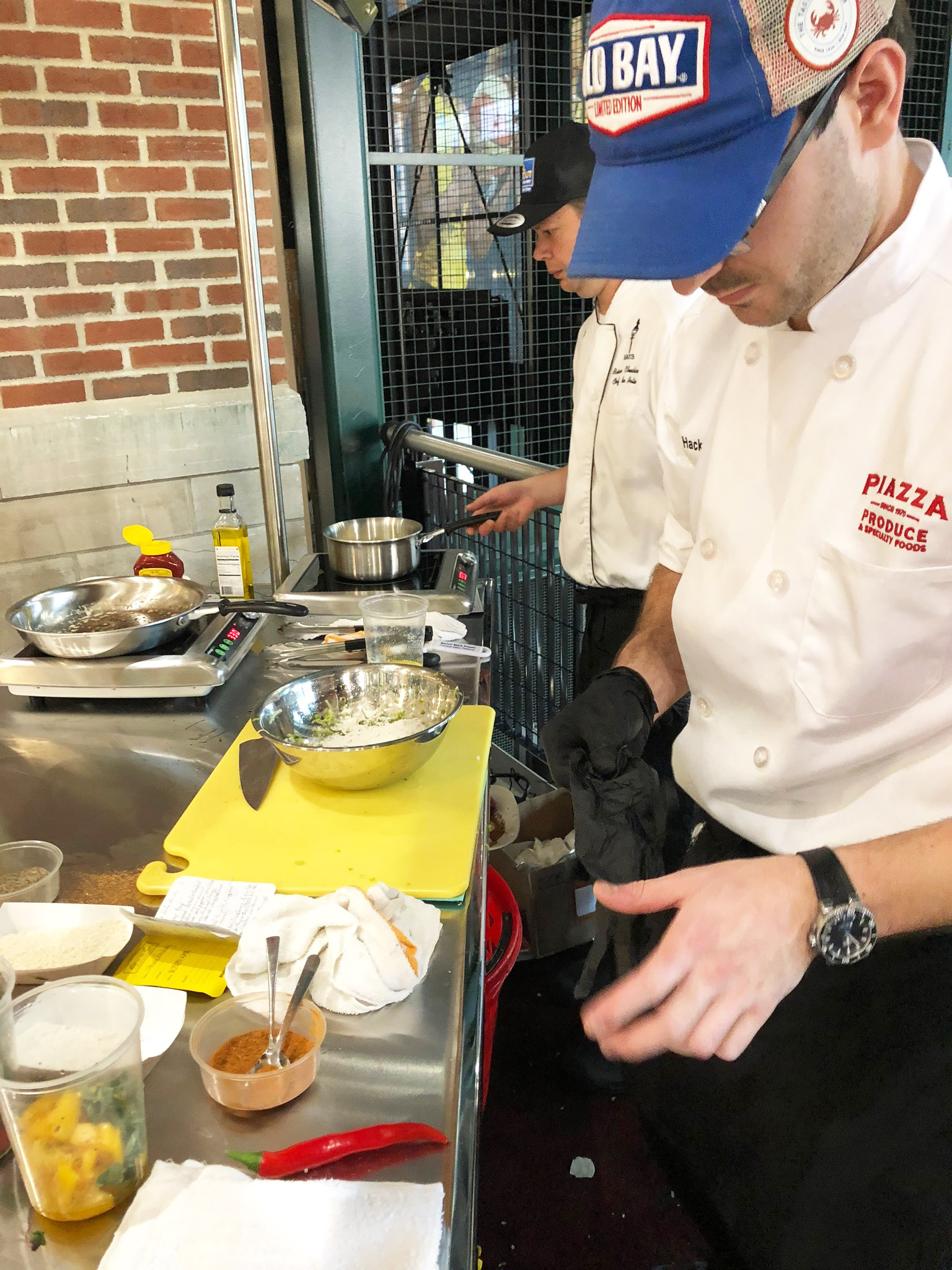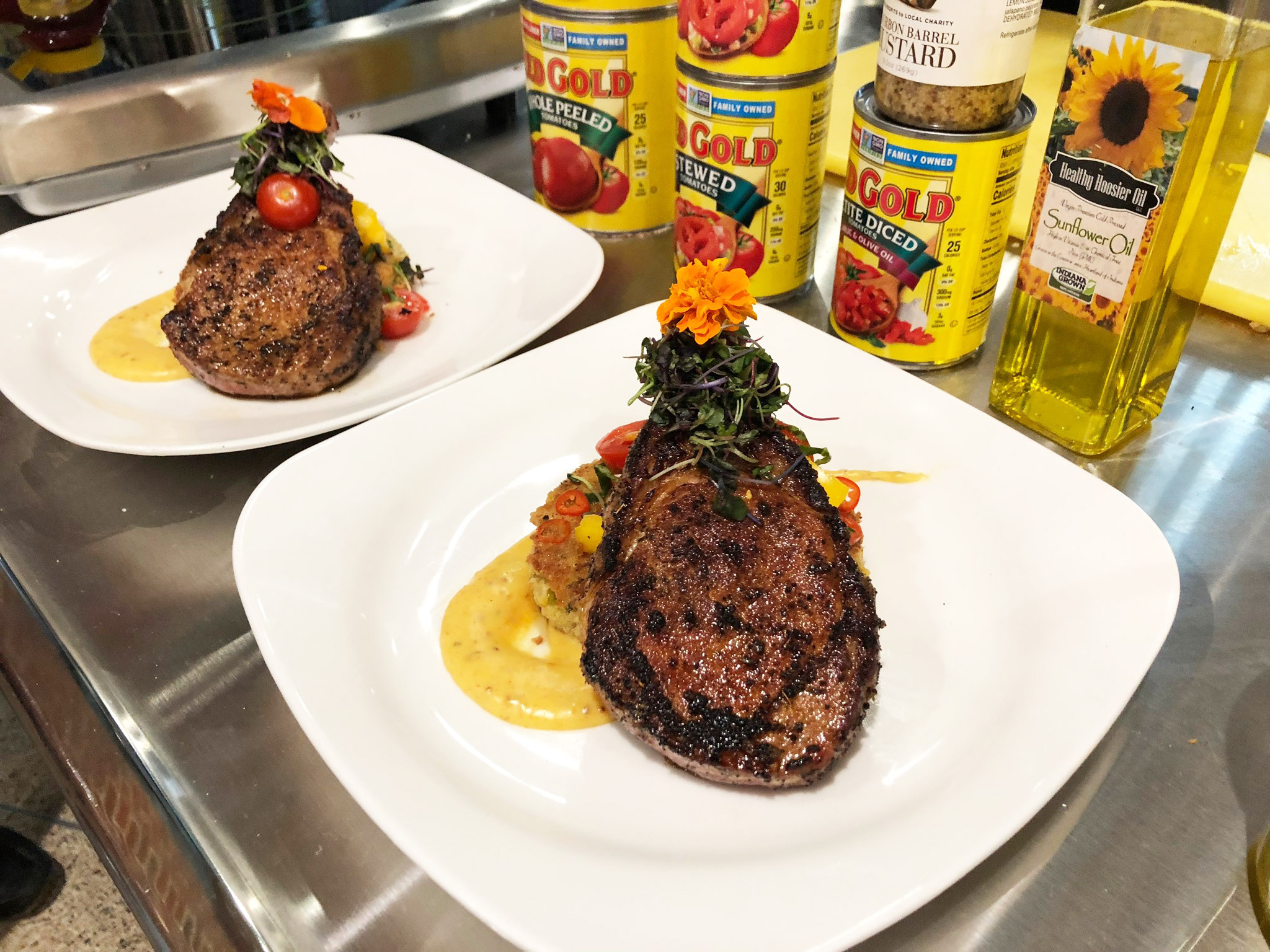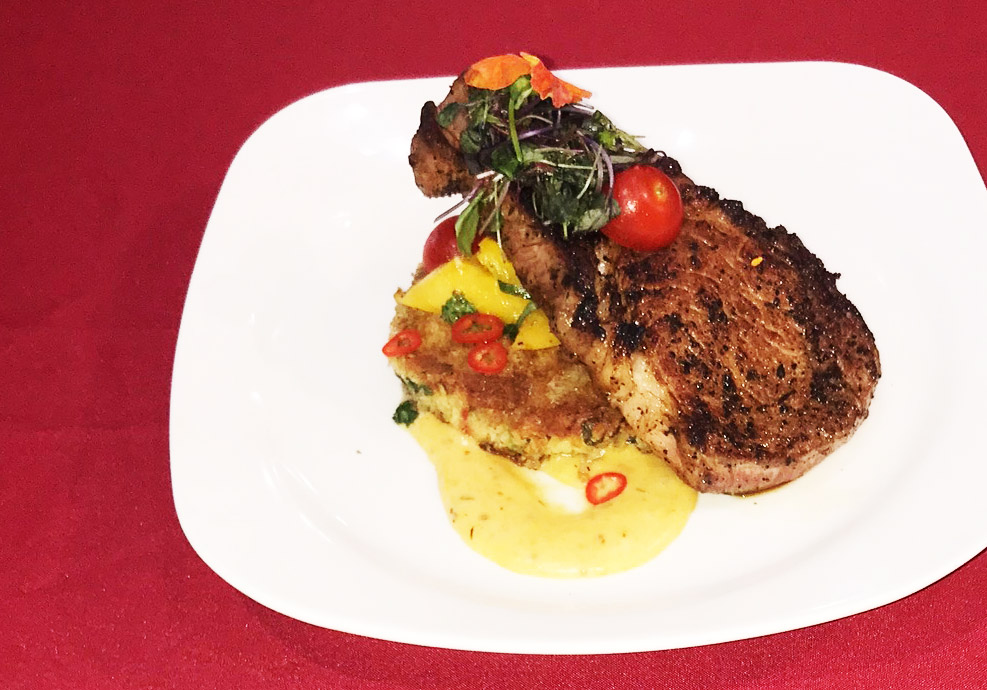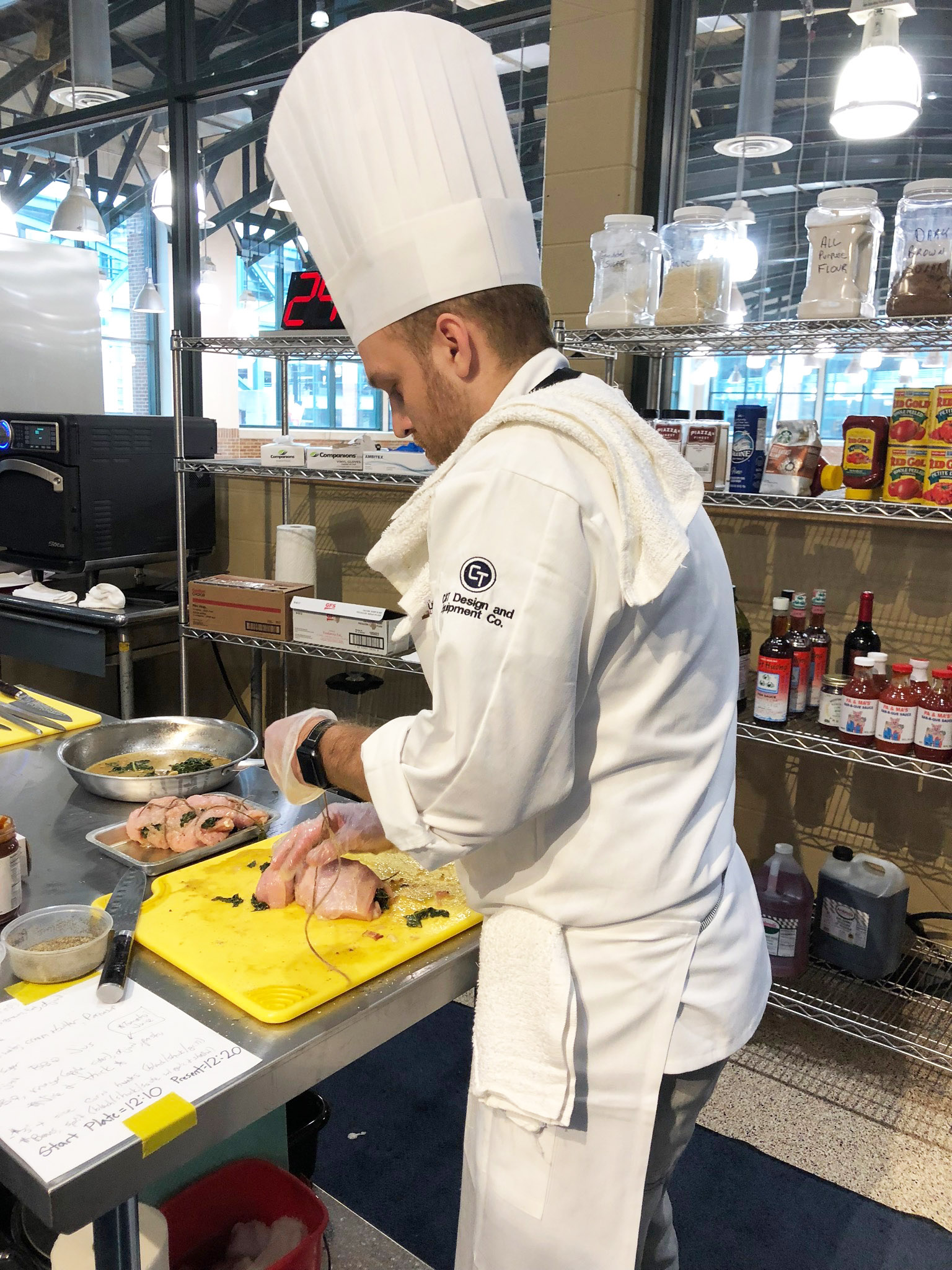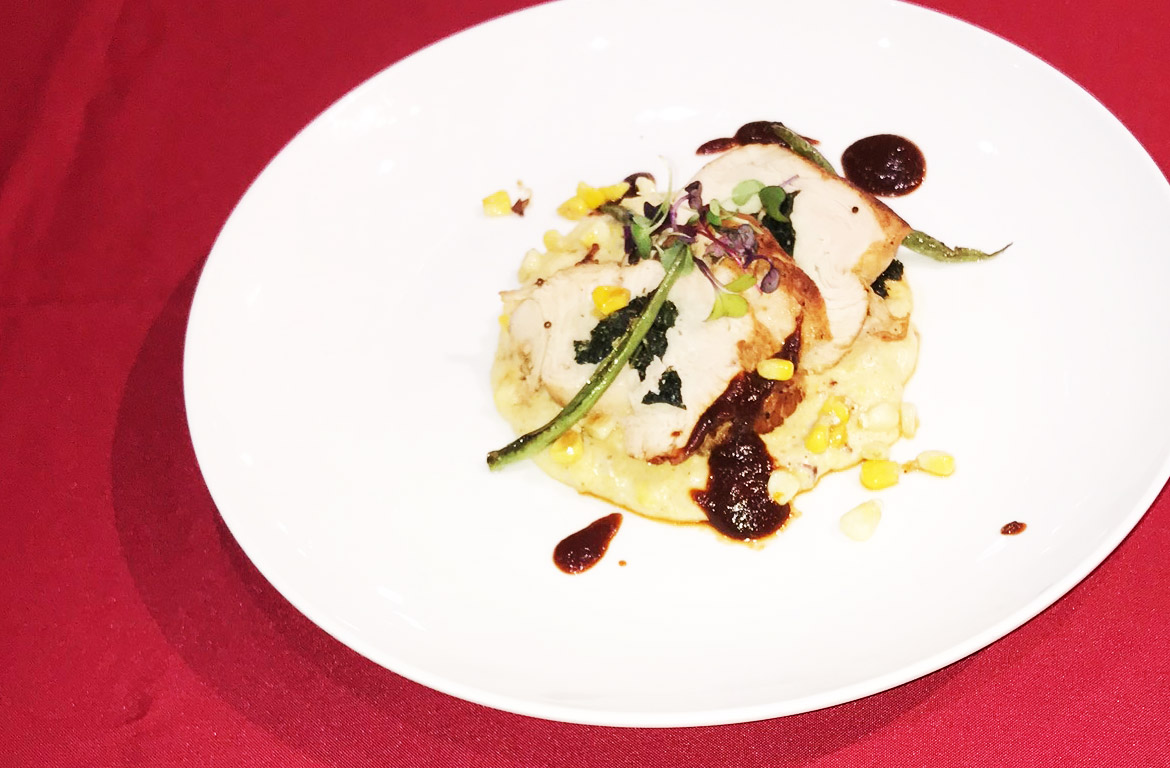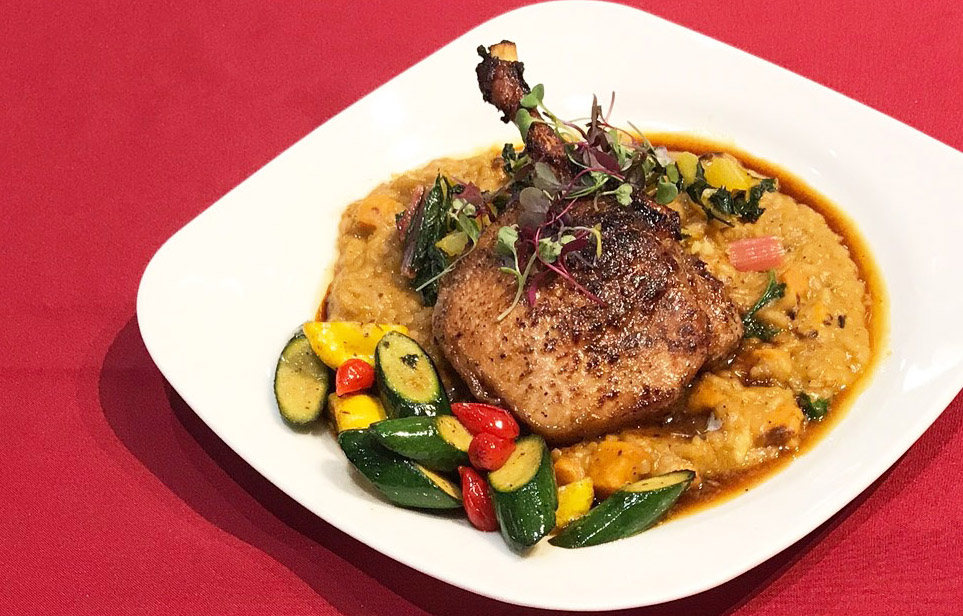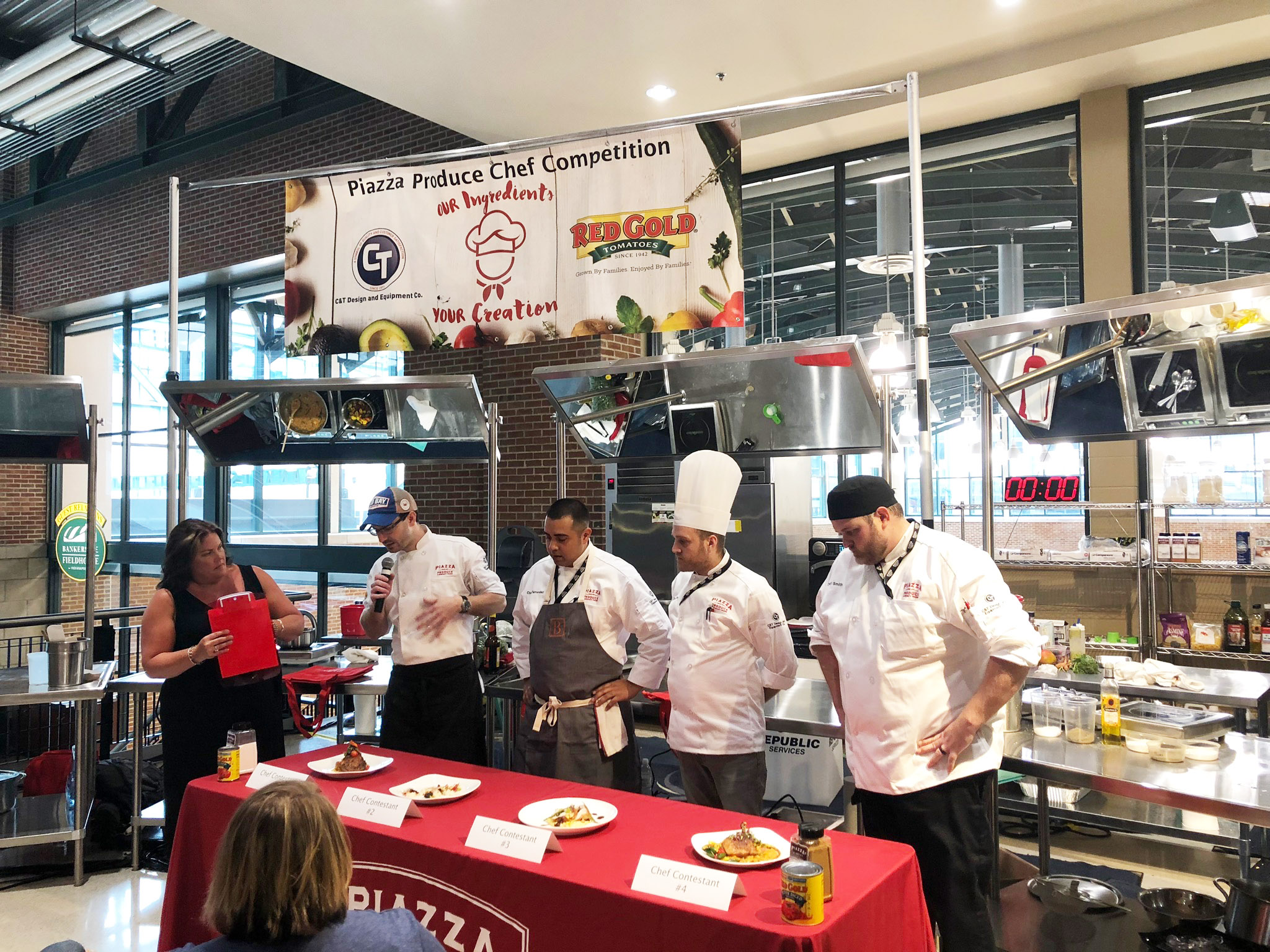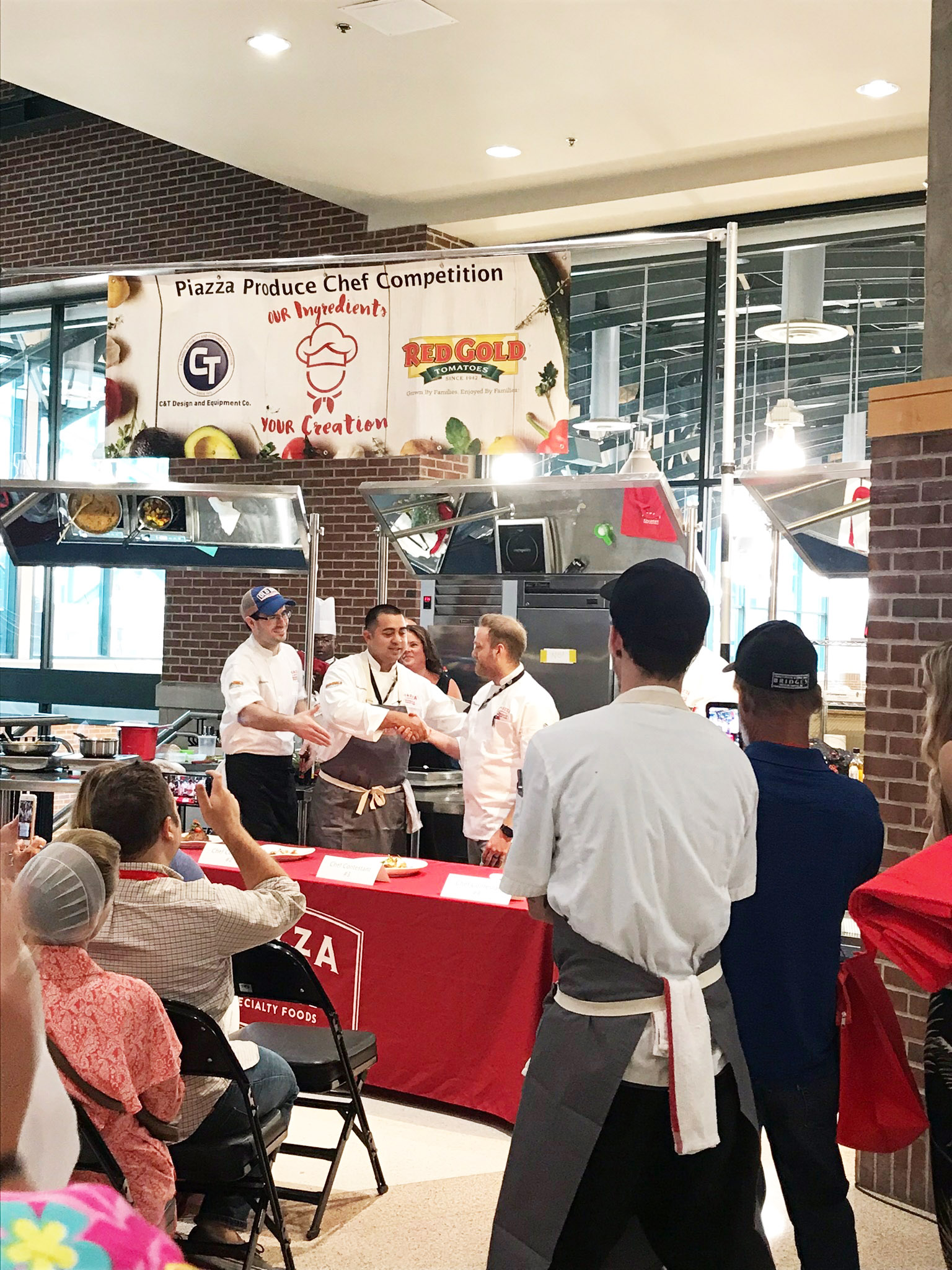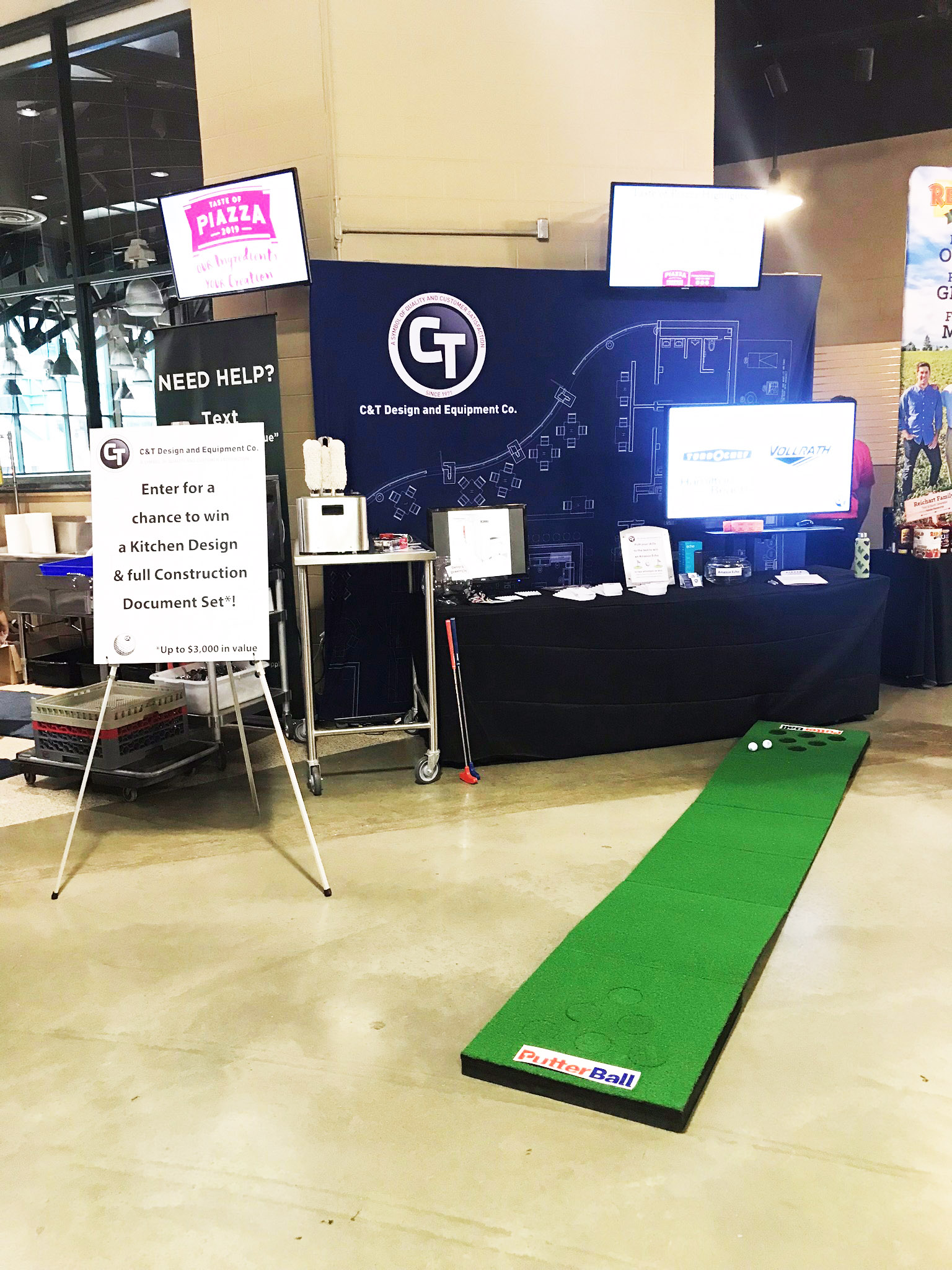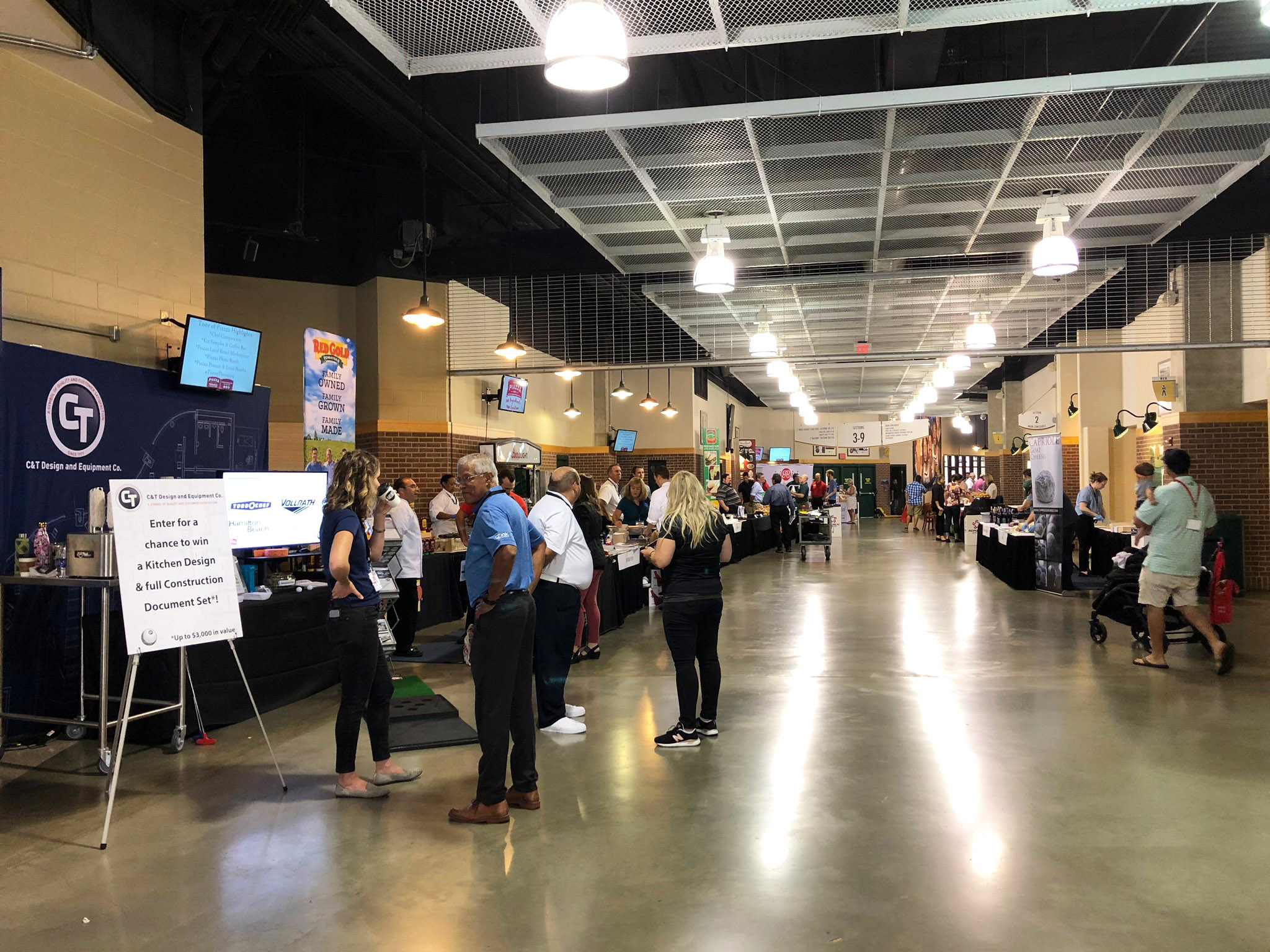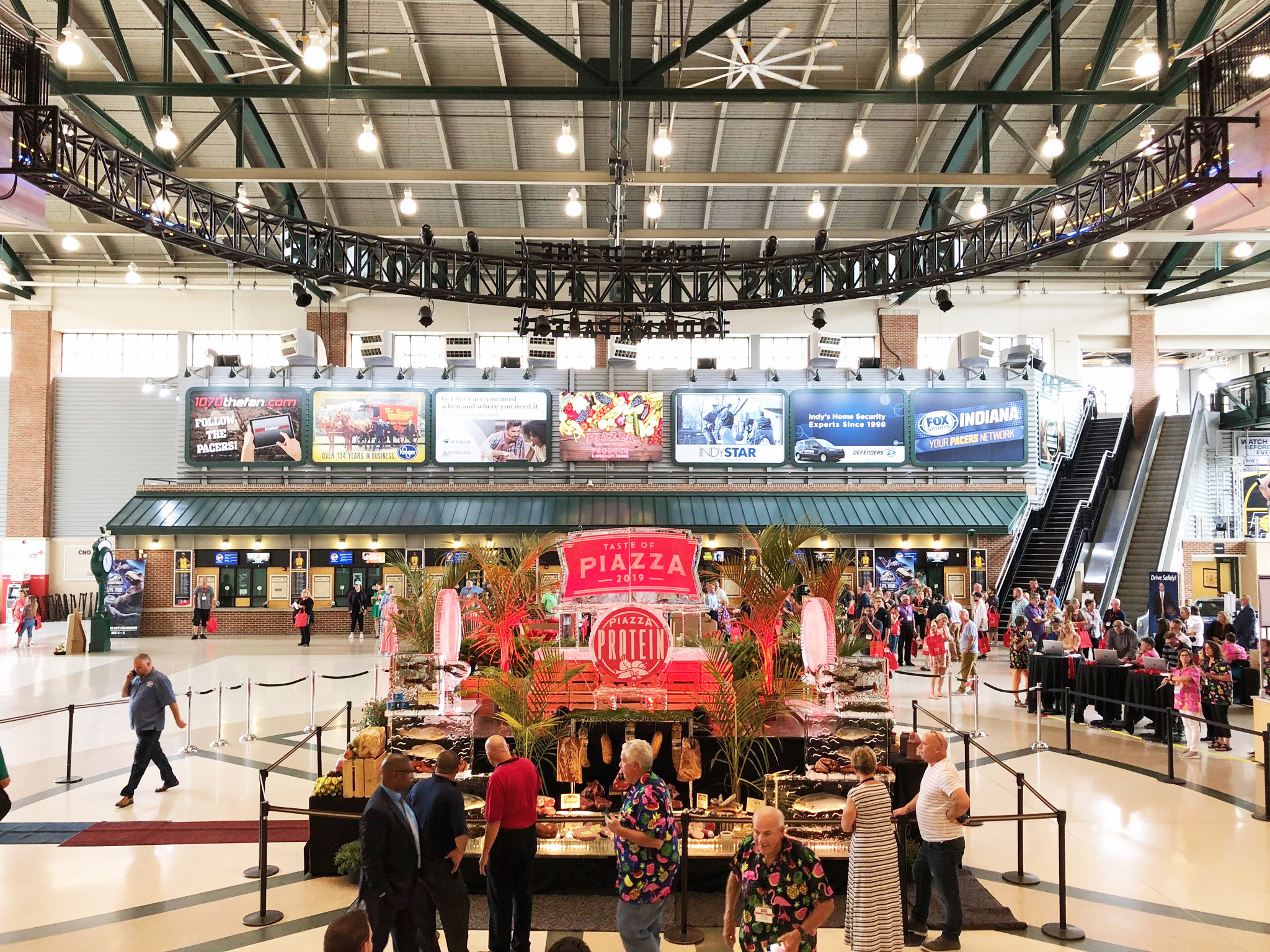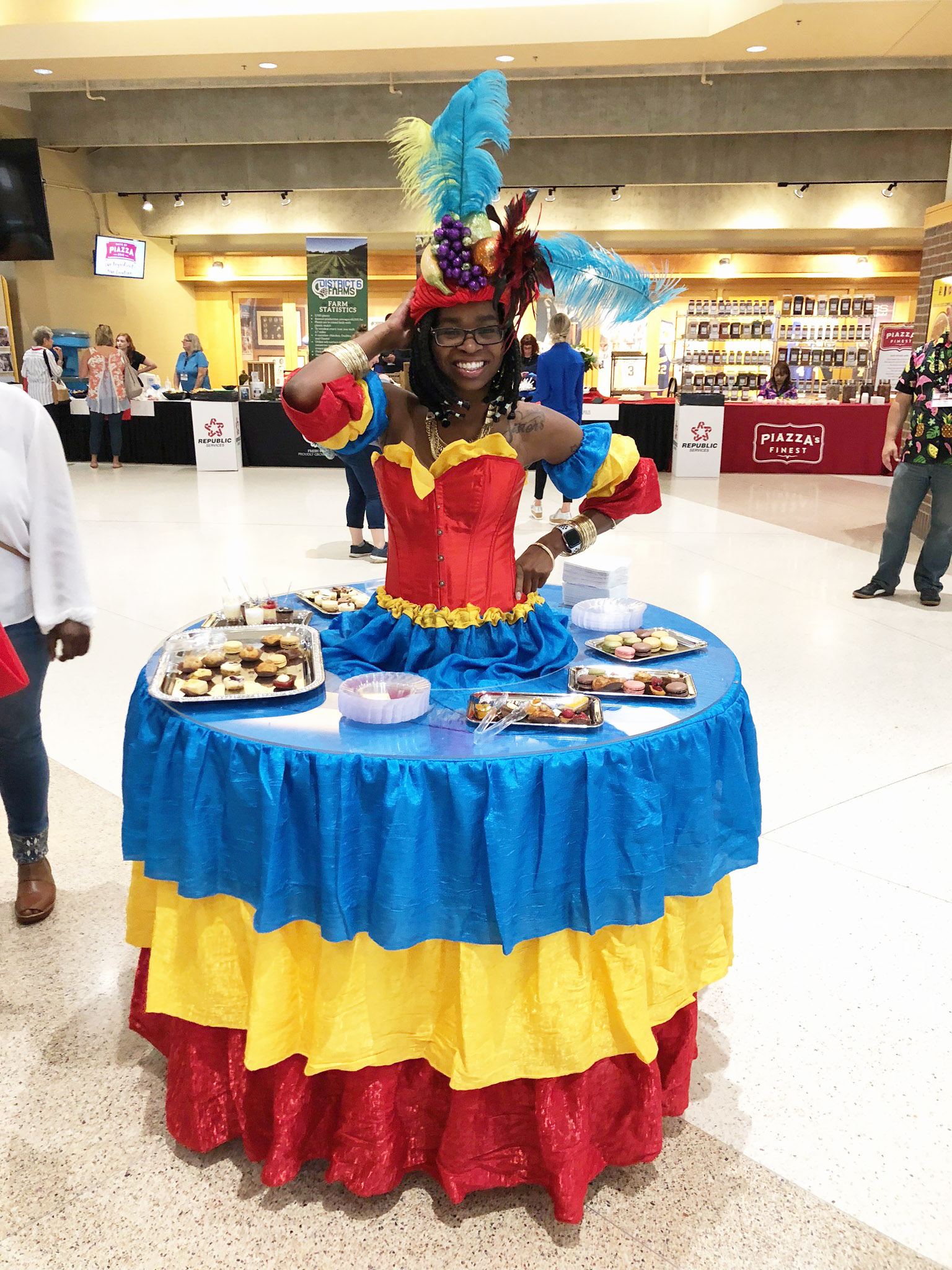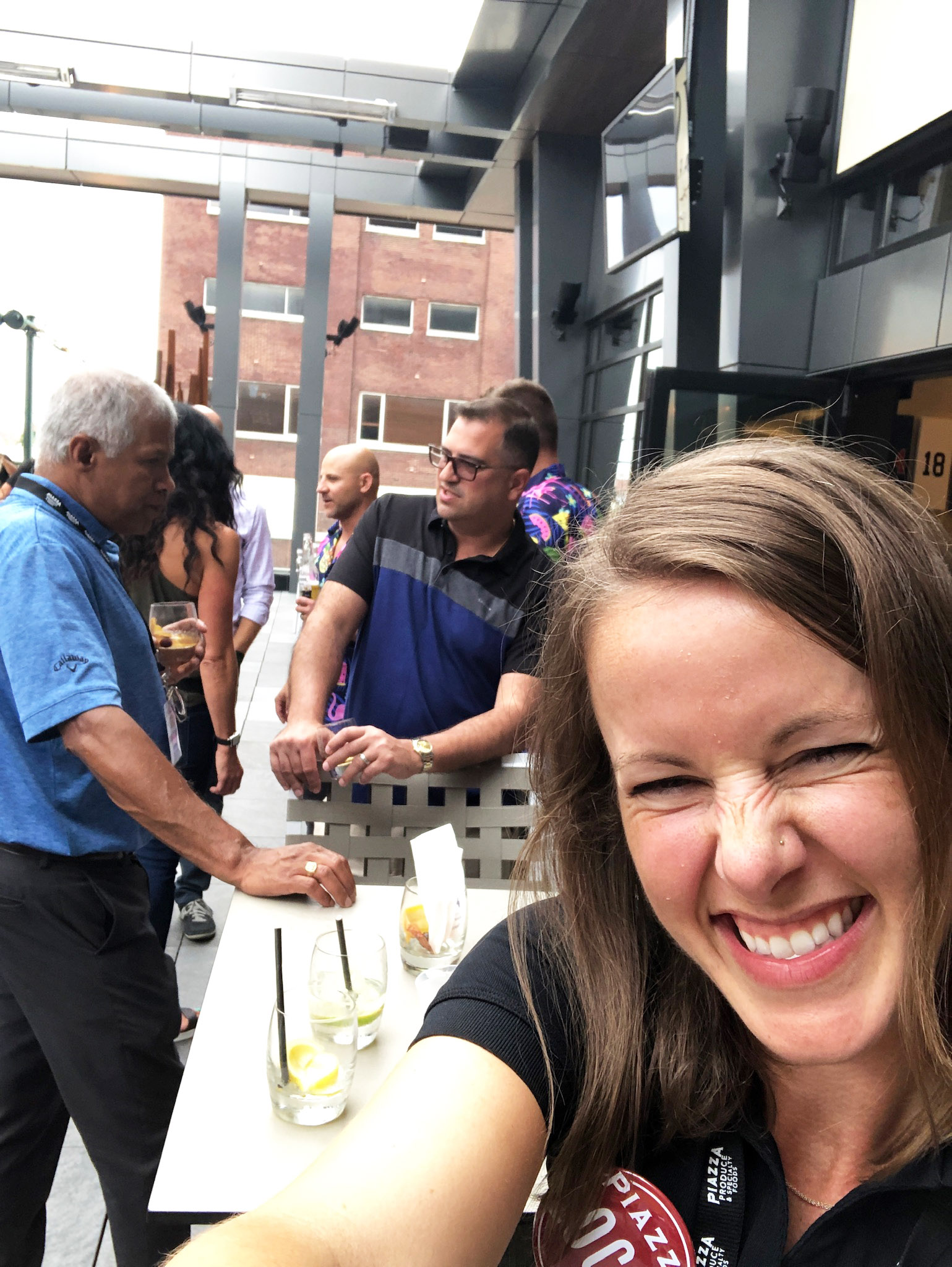 A very special thank you to the manufacturers that partnered with us in the creation of this kitchen to make sure the competition went as smoothly as possible:
Advance Tabco
Hamilton Beach

countertop and immersion blenders

TurboChef
Vollrath

induction burners
induction pans
induction pots
bus tubs
mixing bowls
and several of the utensils provided for each chef