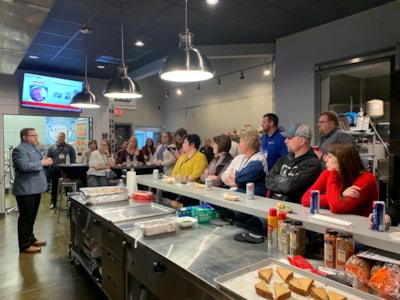 Earlier this month, C&T partnered with manufacturer rep HRI, Inc. to bring nearly 50 of our K-12 foodservice customers together for a two-day event focusing on the equipment that can help serve school operations best. We were so happy to have American Panel, Baxter, Hobart, Matro, Multiteria, Ovention, Palmer Hamilton, Structural Concepts, Traulsen, and Vulcan here with us to introduce our guests to new products ranging from furniture and graphic packages to improve dining spaces, mobile operations for merchandising, shelving and storage solutions and cook/chill solutions for small spaces.
We began each session (we offered two date options) by meeting at the hotel to check-in and took a shuttle to HRI's Culinary Solutions Center in Noblesville. We were able to eat and drink while learning about combi ovens, storage/prep solutions, blast chilling, and quick cooking ovens. Have you ever wondered if you can cook an entire Big Daddy's pizza in 3 minutes? Wonder no more.. you can!
Following our sessions at HRI, we boarded the bus again to head to Anarchy Axe where we were taught how to throw axes. For some, it was a quick study, and for others, the axes never seemed to land how we intended.
The following morning, we welcomed everyone at C&T's Indianapolis office where breakout sessions were planned for refrigeration, steam cooking, and warewashing. Small group sessions alowed for questions to be asked and answered, and hopefully promoted thoughtful ideas, about how new equipment might help K-12 operations become more efficient and profitable. We also discussed the difference between manufacturer reps and dealers, and how each player fits into the foodservice distribution channel.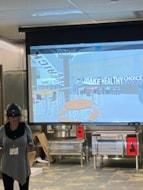 The whole group was present for a virtual reality demonstration where Tippecanoe School Corporation's Director of Nutrition Services Lori Shofroth-Cords was able to "walk through" her existing kitchen, serving lines, and cafeteria to discuss what selections she has been pleased with and what future options she has for her furniture and graphics options. Lori was a great sport. Thanks for trusting us to send you into the 4th dimension, Lori!
We finished up with a trivia session to drive home some of the more important takeaways from the manufacturer presentations. Competition was fierce.
We sincerely appreciate the directors taking time out of their busy schedules to join us for this event. We hope you found it informative, fresh, valuable, and had some fun in the process!
A huge thank you goes out to our manufacturer partners for joining us for several days to educate our guests. Again, they are American Panel, Baxter, Hobart, Metro, Multiteria, Ovention, Palmer Hamilton, Structural Concepts, Traulsen, and Vulcan. The success of this event is largely due to your commitment and participation.
If anyone reading this has questions or would be interested in a future event, please reach out to Laura Terry with C&T Design at lterry@c-tdesign.com.
One last massive thank you to everyone involved in this year's event from the attendees to the manufacturers and everyone here at HRI, Inc. and C&T Design.