Building a commercial kitchen takes a tremendous amount of strategic planning if you want to make the most of your investment. An efficient kitchen begins with a well-thought design that's conducive to productivity. Not all architects and builders have the specialized experience needed to develop a commercial kitchen that's tailored to their customer's needs and preferences. With the perfect commercial kitchen design consultant (or restaurant design consultant) at your side, you can create a highly detailed plan that can provide the foundation for your operation's success. Here, we'll explore how to select the best commercial kitchen design partner for your upcoming project.
Why Look for an Expert Commercial Kitchen Design Consultant?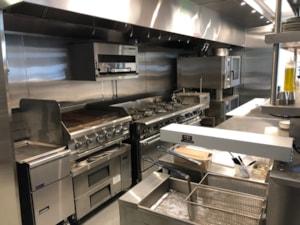 When you work with a consultant who is experienced in commercial kitchen design, you can create a more informed plan for your kitchen. As the hub of your restaurant or food service-related business, your kitchen has to function efficiently to support your operation's success. An experienced consultant can partner with you to develop a detailed plan that's informed by feasibility considerations and potential costs. This individual can help you stretch your budget to include must-have features and to avoid pitfalls that other designers have fallen into because of their lack of food service and commercial kitchen design experience.
What Should I Look for in a Commercial Kitchen Design Consultant?
When looking for a partner to help you design your commercial kitchen, you'll want to focus on these considerations:
Experience
Experience is the key ingredient for a commercial kitchen designer. Any designer you work with should have experience designing commercial kitchens for restaurants, hotels, businesses, schools, or other food industry venues. You'll want to find one who has a diverse array of kitchen design experience and is comfortable working with your budget range. Also, commercial kitchens come in a myriad of different sizes. Can your potential partner help you make the most efficient use of your space? As you interview candidates for the job, take considerable time to evaluate their kitchen design experience to ensure that they are a good fit for your project.
Gallery of Completed Work
Be skeptical of consultants who can't offer you demonstrable proof of their design experience. You should expect to see a gallery of their completed commercial kitchen projects. It's important to be able to witness a kitchen design consultant's finished work even if only via an image. Then, spend time discussing their design, layout, and product choices and how they supported the kitchen's overall performance. Be sure to ask questions so that you can learn as much about their design and consulting proficiency as possible before you hire them.
Reputation
When you select a designer for your commercial kitchen project, be sure that they have an excellent reputation in the food service industry. Fortunately, you can find lots of information online about professional food service and restaurant design companies. Visit their website if they have one or check out their social media platforms to see what people are saying about their services.
References and Testimonials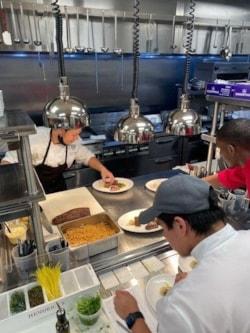 Obtaining references and testimonials are a must when it comes to hiring a commercial kitchen design consultant. Ask any potential candidates to supply you with references, but don't be afraid to do some digging on your own. A candidate isn't going to provide you with the name and contact information of an unsatisfied customer. Most contractors do have some unhappy clients; that's inevitable. However, if you uncover negative reviews about a potential foodservice and kitchen consultant, always investigate them further. Sometimes it's related to misunderstanding or an issue that doesn't speak to the designer's integrity or expertise. Because a commercial kitchen is a big investment, spend significant time assessing any design candidate's background and references before you hire them to consult for you.
Discussion Topics for Your Interview
When you meet with potential design consultants, you'll want to prepare carefully for your interviews. The answers they provide to your questions will tell you if they're the perfect commercial design consultant for your particular project. Here are some questions you will need answers to:
Are you experienced in kitchen layout and workflow?
Is your kitchen layout experience confined to fast food kitchens, fine dining restaurants, or other venues?
Make sure they have experience with your specific project, as different food service projects (bars, assisted living, food trucks, hospitals, cafeterias, etc.) have very different requirements and issues.
What is your experience with food service equipment? Can you provide guidance on kitchen equipment selection?
Do you know of any energy-saving or energy-efficient kitchen options?
Are you familiar with commercial kitchen requirements, codes, and compliance issues?
What were the budget ranges for your past commercial kitchen projects?
Do you have project management experience related to commercial kitchen design?
Are you able to provide financing options and guidance?
Food service and commercial kitchen design consultants can bring a wealth of good information to your project when you select the ideal candidate for your job. Use these tips to hire a consultant that has the experience and expertise needed to help you make your commercial kitchen a success.
Who Is C&T Design and Equipment Company?
C&T Design and Equipment Company, founded in 1971, specializes in commercial kitchen and restaurant design consulting. With eighteen (18) offices nationwide, and over $100 million in projects completed annually, C&T can help you achieve your goals.
Contact us today to learn more.