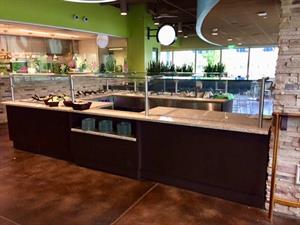 The Indianapolis Business Journal featured Eskenazi Health and their food in a cover story last week. Eskenazi is "the oldest and largest public health care system in Indiana..." and "serves mostly poor and underinsured patients, many of whom have poor eating habits and chronic diseases, from diabetes to heart disease." Dr. Lisa Harris, Eskenazi's CEO and medical director, is quoted in the article as saying that "80 percent of chronic disease can be prevented, better managed and in some cases even reversed by eating well." To practice what they preach to their patients and guests, Eskenazi color-coded crocks on the salad and yogurt bars to designate food nutrition levels and educate diners daily on the digital menu boards. And this only scratches the surface of all of the things Eskenazi has implemented to get the word out on what we put in our bodies and how that correlates to overall health.
C&T Design Indy's Cindy Reed began working with them as the new hospital was being built a few years ago. The focus on healthy food as a means to healthier patients was obvious from the moment she got involved; fryers were removed from Cafe Soleil's kitchen and replaced with combi ovens (convection and steam), a rooftop garden was installed to help provide fresh fruits and vegetables year round, and an emphasis was put in motion on buying local. "Eskenazi spends nearly 40 percent of its budget on Indiana farms and food operators - a huge jump from just 3 percent two years ago." They hope this increases to 50% by the end of 2018.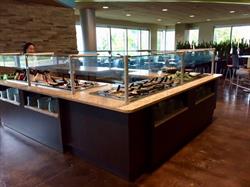 Because of all of these action items and so many more, including opening a marketplace offering low cost produce and recently adding a beautiful food bar to Cafe Soleil (pictured), Eskenazi Health was recently praised among 23 other hospitals by the Physicians Committee "for offering fresh vegetables, whole grains, cholesterol-free entrees and soy milk." They were the only hospital in Indiana to receive the praise.
The recognition is well-deserved as Eskenazi continues to blaze trails in the world of health and wellness as it relates to food. We have been thrilled to have a front row seat to witness the innovation and to be an integral part of their foodservice team assisting in the specification and design process as well as the supply of equipment.